Fashion a Meaningful Employee of the Month Certificate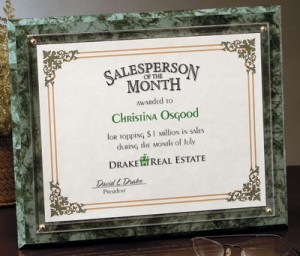 Today, finding ways to keep talented employees is a necessity for every company.
Having a meaningful employee recognition program to motivate and encourage improvements is a sure-fire way to keep your talented employees.
One way to show employees they are appreciated is to have an employee of the month program, and give an employee of the month certificate or award that gives them a permanent record of that appreciation.
Why Appreciation?
Employees want to know their efforts and loyalty to the company are appreciated. And while those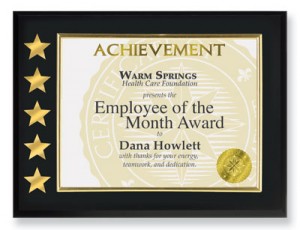 who excel should be financially rewarded, often times large bonuses and salary raises aren't in the cards. Why should you do?
When you've got programs in place that are designed to show employees recognition, they strive to do a better job, and having employee of the month certificates that reflect that appreciation is an easy and inexpensive way to help keep employees motivated and loyal.
Certificates don't have to be complex.
All that is required is the person's name and an explanation of the award, in this case the Employee of the Month. Make it on good quality bond paper to start, or even certificate paper, which usually has fancy edging. Not only will this show employees the appreciation they deserve, but will impress on them the quality of the award you're giving. Making it suitable for framing or even going that extra step and framing it, gives them something they can hang on their wall and show to others that the company does pay attention to their employees.
All in all, awards and certificates will give the employees that added impetus to do much more during their day. Employee of the month certificates gives them the acknowledgment on a month to month basis that their efforts are appreciated. Employee recognition isn't difficult or expensive to do, but as a method of quality employee retention, it's a necessary step.