Wedding Invitation Wording for Military Titles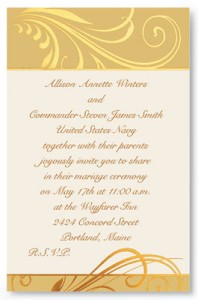 When writing military wedding invitations, the same rules of etiquette apply as in general or non-military weddings. The difference however, is in the use of military titles. While some brides who are in the military choose to omit mention of military titles in their military wedding invitation wording, it is also perfectly acceptable to include her military title in the military invitation wording. In a military wedding the bride/groom's rank and service is used as well as that of their parents. For enlisted military personnel, rank is omitted. Military titles should never be abbreviated.
For brides and grooms, who are members of the armed forces, the following formats apply for military wedding invitation wording.
NAVY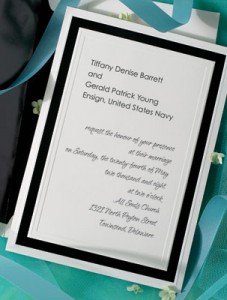 Commander and Higher
Commander Steven James Smith
United States Navy
Lieutenant Commander and Below
Steven James Smith
Ensign, United States Navy
Petty Officers and Seamen
Steven James Smith
United States Navy
ARMY, AIR FORCE, MARINES
Captain and Higher
Captain Jane Marie Jones
United States Army
Lieutenant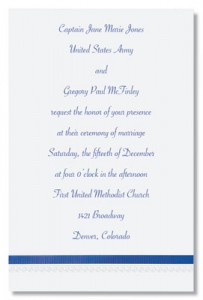 Jane Marie Jones
Lieutenant, United States Air Force
Noncoms and Privates
Jane Marie Jones
United States Marines