Proper Wedding Reception Place Card Etiquette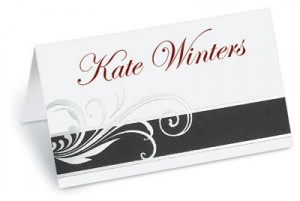 When it comes to seating arrangements at the reception, if you're using place cards, then it's formal enough to have a seating chart.
Place cards are used to designate where people sit during the reception which could be quite extensive if the celebration includes a full meal as part of the festivities.
This means careful balance of friends and family as well as placing the bride and groom.
This also means careful adherence to Wedding Place Card etiquette.
Head Table

At the head table, you'll have the bride and groom. This is called the "bridal table" and generally seats the bride and groom, with the groom at the bride's right, followed by the best man, and groomsmen. The maid of honor sits at the bride's left and bridesmaids are seated left of the maid of honor- similar to the wedding ceremony. For more arrangement ideas check out LoveToKnow.
Family Table
The family table will host the families of both the bride and groom with the families seated opposite one another. This enables them to spend some time together, getting to know each other. Children are usually placed together at a children's table to leave the adults to interact. Children will love seeing their names on your Wedding Place Cards, so don't forget to include their names when writing/labeling your place cards!
Friends
Friends of the bride and of the groom need to be mixed and seated at two (or more) different tables. Make sure people at these tables know at least a couple of people, that way no one feels like they're "alone" at the wedding.
Alternate seating arrangements between males and females whenever possible, keeping spouses and those with dates or significant others together. Singles can be interspersed at various tables, although keeping them with friends will keep them involved in the conversational flow.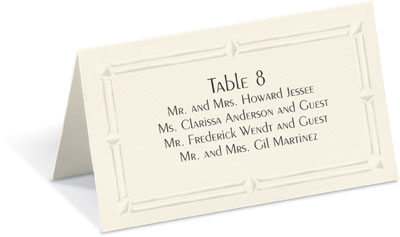 If you've got an eye as a matchmaker, seating your intendeds together may well start the pairing you're interested in.
Do place them with friends of both if possible, that way they don't necessarily feel they've been purposely placed together and will interact normally.
Wedding Place Card etiquette designates that the card will be placed at the top of the plates or over the napkins and will designate seating. Table tent cards with table numbers or names will simplify the process of finding where your guests are seated. A seating arrangement layout or list with names and table numbers will show guests where to look for their place cards.
The most formal of occasions requires the most formal of arrangements and making sure your seating arrangement is set up per etiquette rules ensures everything is being done properly.