Need Help With Graduation Invitations Wording? Start Here
Seasonal & Special Events Ideas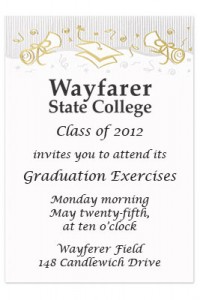 When it comes time for graduation, friends and family alike want to be a part of the celebration. Being able to watch your friend or relative walk across the stage at Commencement and receive a diploma is one of the proudest times you'll ever experience. Having great graduation invitations to send out not only gives the invitees the information they need so they can be present, but with the right invitation wording, it can also show everyone just how happy and proud you are of graduating.
When it comes to putting together that perfect graduation invitation, you'll want to start with a great invitation blank. Having an invitation you really like gives you a great foundation to work from. Once you download the template for your word processor, you'll be able to sit down and get the wording and layout exactly how you want. You'll be able to place graphics or even photos or the school logo and add another level of elegance to your invitation as well.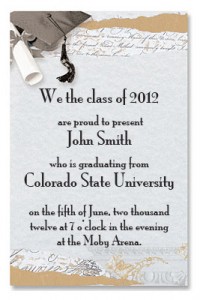 Getting the invitation wording right is more than putting in the school name, the location where the graduation ceremony will take place, and the time and date. Granted, those are important pieces of information to disseminate, but a graduation invitation means so much more. Here are a few phrases that you can include that show some of the pride and happiness that surrounds a graduation.
–    We the class of 2012 are proud to present John Smith who is graduating from Yale on the fifth of June, two thousand twelve at 7 o'clock in the evening at the stadium.
–    As the proud parents of John Smith, we would like for you to share our happiness of his achievement. He will be graduating from Georgetown High School on June 5th,, 2012 at 7pm in the Georgetown High School auditorium.
–    O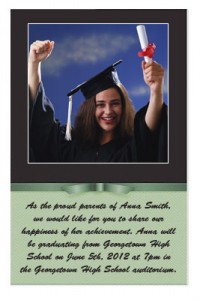 n June 5th, 2012 at 7pm at the Georgetown High School Auditorium, we the parents of John Smith would like to have you share the happiness his graduation.
There are lots of other ways to say just how meaningful this occasion is, but being able to have full control over the process means you can change things until you get the wording for your graduation invitation exactly how you want it. Being able to share such an auspicious occasion with friends and family compounds the emotions and happiness of the day, and great invitations eschew just how auspicious that day truly is.