Wedding Menu Cards Wording Suggestions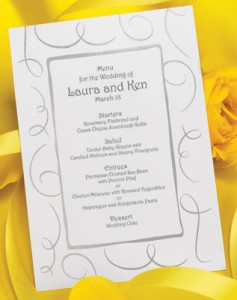 After the wedding, especially top end weddings, the reception is generally catered. Caterers at these weddings pull out all the stops to provide a wide variety of beverages, meals, and desserts for the guests. Many times there is a full evening including hors d'oeuvres, a three course meal, and dessert afterwards. Guests at receptions of this caliber are generally seated via place cards and are supplied with menu cards so they can select their preferences for the meal. You will want to pay special attention to the wording of your Wedding Menu Cards.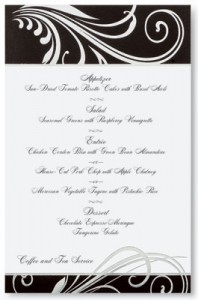 Wedding menu wording is relatively simple. At the top are placed the names of the happy couple. The Wedding Menu Card wording can include "Menu for the Wedding of" or something similar and can include the date of the wedding. After that, aside from the headings to separate the different sections of the meal, all that is on a menu are the items offered.
To keep the theme of the wedding consistent, it's a very good idea to make sure the styling and fonts used on the invitations and the wedding program are carried over to the place cards and the Wedding Menu wording. This adds a touch of class to the entire occasion as every detail matches.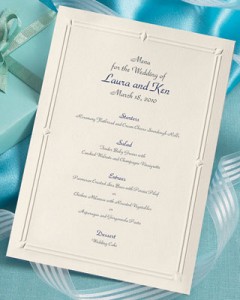 By using blank invitations, wedding programs, place cards, and menu cards, the planner can print your own with a minimum of effort. This gives you a level of control over all aspects of the wedding you won't have any other way. This means if the caterer has to change an entrée or dessert at the last moment, corrections can be made and new menu cards can be printed with none of the guests the wiser. Templates are available as free downloads for all of these items which makes putting them together a breeze.
Wedding planners, caterers, and all of the other people who are involved in a society wedding have to interact together in a carefully orchestrated dance so your wedding comes off perfectly. Having the wedding menu wording come out perfectly is just one detail in a myriad of others, but an important one, nonetheless.