10 Helpful Business Card Tips
Designing Your Business Communication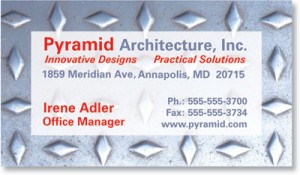 Your business card is a marketing tool that must say lot in a limited space. The right business card can be the key to a thriving business. Here are 10 helpful business card tips for the large and small business owner:
Communicate more than just your contact information with a creative, catchy tag line.
Order a large number of cards as this will reduce the cost of making the business cards.
Avoid the use of clip art for your business logo; have a logo professionally designed that is unique to your company. You can have a logo designed for as little $30.
Be sure to include your company's URL on your business card. The absence of a web address may cause you to lose credibility.
Keep all of your information current. There is nothing worse than calling a business and getting a "disconnected number" message.
Keep the language and font on the card simple. Make sure your main message does not get lost. Make the card easy to read.
Limit your business card to the standard size of 3.5″ X 2″. Anything different will not fit into standard business card holders.
Be sure your business card reflects your image. A funeral home business card should not be flashy and colorful. Keep somber tones for more somber companies and save the artsy images for the flashier companies.
Be sure the company name is the bit of information that stands out the most on the business card.
Keep your business cards with you at all time: car, home, office, and wallet or purse.
Keep these helpful business card tips in mind as you market your new company. Paper Direct has a full line of business cards from which to choose.