Business Stationery Ideas to Maximize its Value
Designing Your Business Communication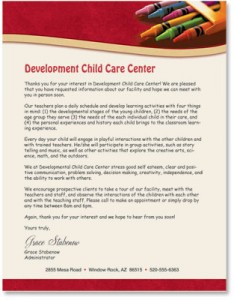 Your business stationery says a lot about you and your business, so it's important to have attractive, professional business stationery to represent or communicate the image or message of your company. Here are some business stationery ideas to keep in mind as you plan out the type of business stationery you would like to use for all your company's communication:
First and foremost, business stationery must have all necessary information and graphics organized neatly and professionally. By including the following components, you will have professional business stationery that will accurately convey who you are and what your business is about.
Your business stationery must include all of your contact information. Keep in mind that with everything electronic these days, it's no longer sufficient to have your company name, mailing address, phone number and fax number. You must also include your email address(es), website URL, Facebook account, Twitter account, and any other social media you may use to market your business. This may seem like a lot of information to include on your stationery, but you want potential customers and clients to be able to reach you, and providing all of your contact information will also allow prospects to learn about you by reading your website, Facebook page, etc.
Your company logo, which is the image that identifies your company, should be prominently displayed on each piece of business stationery you order (envelopes, seals, letterhead, etc.). Most business owners put the company logo at the very top of the business letterhead, but you can put it wherever you like.
Another business stationery idea that will ensure your stationery looks professional and neat is to have a coordinated color scheme for all pieces of stationery. Your letterhead and envelopes must match. You really don't want to be "artsy" when it comes to business stationery and go with wild colors that really don't go together. Keep it simple, elegant and professional. If you are in an artistic field, then, of course, vibrant colors and interesting designs would make perfect sense.
Choose a legible font when designing your business stationery. Again, you don't want to to fancy with your font if your company is more professional and less "fun." You want to choose a font style and size that is easy to read. Most business stationery uses Time New Roman, Ariel, Georgia, Calibri or Verdana. You would want to avoid Gothic-like fonts, calligraphy-like fonts, and "fun" fonts like Comic Sans (unless, of course, those particular fonts match your what your company sells or serves).
The last decision you'll have to make after choosing contact information, logo, font choices and color scheme, is the type of paper you want to use for your business stationery. You must choose a sturdy paper, known as "professional stock paper" because flimsy, less expensive paper will look cheap and the ink may bleed. It's best not to cut corners when it comes to business stationery design for a new business.
PaperDirect has a full line of business stationery, so visit the PaperDirect for more business stationery ideas to get you up and running in no time at all.