How to Write a Great Business Letter
Designing Your Business Communication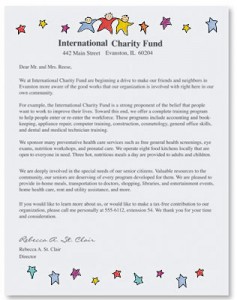 Though we live in a world in which most correspondence is accomplished electronically, the old-fashioned business letter on paper is not entirely obsolete. Writing a great business letter is a skill that all business owners must have, and if you require your employees to write business letters, you must provide them with the education on how to write a great business letter, too.
Younger employees, especially, are very dependent upon writing/corresponding using only electronic media, but there may come a time when they will be called upon to write a business letter the old-fashioned way–in paragraph format to be printed out and mailed (or sent electronically). Here are some tips to write a great business letter:
Keep it short by avoiding useless words and unnecessary information.
Avoid cliches and other trite sayings.
Use familiar language.
Use short sentences and paragraphs.
Write in conversational style, if appropriate (if it's more formal, then use more formal language).
Get to the point quickly (in the first paragraph).
Stay on topic.
Be sincere, friendly and professional.
When writing a great business letter, it's important to use only active verbs, not passive. Here is an example of a passive verb phrase. Note how long-winded and formal it sounds:
The documentation of the purchase will be provided by our marketing staff two weeks from today.  (passive voice)
Our marketing staff will provide documentation of the purchase two weeks from today. (active voice)
Active voice is more informal and more akin to how we speak to other people in everyday conversation.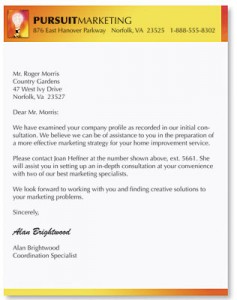 There are basically two formats used when writing a great business letter: block and modified block style.
To learn more about business letter writing and other aspects of being part of a successful business, please read other PaperDirect blogs on the subject of branding your business.  And don't forget to look at PaperDirect's  full line of business stationery, brochures, and business cards.