Wedding Ceremony Program Ideas 101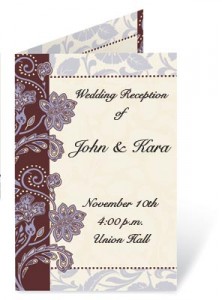 Your wedding ceremony program is one of those little touches that outlines your special day for your guests and allows them to know what is happening and what is to come during your beautiful wedding ceremony. Wedding ceremony programs also introduce the wedding party to your guests. During elaborate church weddings, and especially during Catholic weddings, it's helpful for guests to know what is taking place because they may not be familiar with how Catholic weddings with mass proceed. Your wedding ceremony program is also a token of that special day that you and your guests can cherish forever. Here are some suggestions as to when you should provide a wedding ceremony program for your guests:
If you are having a religious or traditional wedding, with many guests who are of another faith (or culture)
If you are having a large wedding, where guests do not know the bridal party
If you are having a particularly long ceremony where guests will want to know how long it will be and what will take place
If you have many people to thank
Wedding programs need not cost a lot of money. You can find a simple wedding program style for a very affordable price, but the more elaborate the program, the more it will cost, of course. What should you include your wedding program? Here are some wedding ceremony program ideas so you know what you should include your program:
The cover of the wedding ceremony program typically includes the date and/or the names of the couple and may also include the location and time of the ceremony, a picture, or design element (flowers or some other symbol).
Order of events should be included in the wedding ceremony program. If the cover has no information, you should list the date and names of the couple and location of the ceremony on the inside just before the order of events. Then list what will happen during the ceremony including processional music, greeting, readings, prayers, vows, ring ceremony, unity candle ceremony, pronouncement of marriage, recessional music, and anything else that will take place. Be sure to list the events in the order they will occur so guests can follow along.
You must include the names of the members of the bridal party and other participants.
Officiant
Parents of the bride
Parents of the groom
Stepparents of the groom
Grandparents
Maid of Honor
Best Man
Bridesmaids
Groomsmen
Readers
Here are some additional wedding ceremony program ideas that are optional:
An explanation of traditions in your ceremony
A request for audience participation in certain parts of the ceremony (e.g. affirmation of the marriage, communion, singing, offering of the peace, standing or kneeling)
A short sentence about each of your bridesmaids and groomsmen describing why they are important to you.
An explanation of the significance of the location, theme, first dance song, etc. (For example: the reception will be held at The Chop House, the site of the bride and groom's first date.)
Quotes or poems about love or marriage
Directions to the reception
PaperDirect is your online source for everything you need for your DIY wedding including wedding invitations, wedding program paper and wedding place cards. Read the PaperDirect blog for more DIY wedding program ideas.