Employee Rewards and Recognition at the Holidays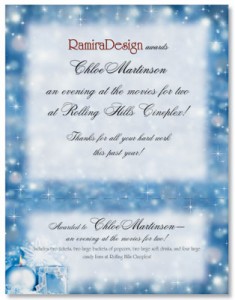 Will you get a Christmas bonus this year? Have you ever gotten a holiday bonus at your job? If you're the boss, are you giving holiday bonuses this year? If you're not the boss, have you been recognized or rewarded in some other way besides monetarily during the holiday season at other jobs or in previous years? If not, maybe you can slip an anonymous suggestion into the boss' "in box" at work or casually leave a note in the break room. If you are a boss, and you have good employees who work hard all year, you really should think about employee reward and recognition at the holiday season.
In these tough economic times, if you are the owner of a thriving business, you need to remember who is behind your business' success–you and your staff. If your business is not doing well, you can still show your appreciation to those who deserve recognition without spending a great deal of money. Fewer team members, larger workloads and job stress may have your staff needing a little "atta boy" to keep up morale and provide incentive to keep plugging along. Any small token of appreciation will make your employees very happy and make them feel valued. This, in turn, provides incentive to keep working hard.
If you're the boss, why not show them you appreciate all their hard work with one of these employee recognition ideas: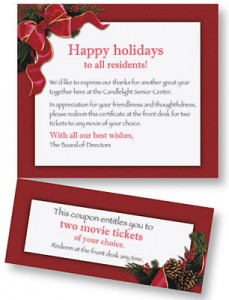 Paid time off. If you cannot afford to give monetary bonuses, then offer your employees an additional day off around the holidays. Those traveling, especially, will greatly appreciate this generous reward, and those with small children may appreciate the extra day more than money. Time with family is priceless; money comes and goes.
Surprise your staff with an "early dismissal." Remember snow days in school when you got to leave after lunch because a snow storm was coming? Adults will be no less excited with an early dismissal the day before their first real day off for the holidays. If Christmas falls on a Friday, and they' have Thursday and Friday off, why not close down shop Wednesday afternoon? You will be amazed at how excited your employees will be about such a small gesture that surely won't cost you much at all.
Gift card to an employee's favorite store or restaurant. Regardless of the amount, a gift card to a store you know an employee frequents lets him or her know that you genuinely care about giving just the right gift. Gift cards are one of the most popular ways to reward and recognize employees' good work. Be careful about giving different amounts to employees. They will talk about the amount, so be as fair as possible. If you give one hundred dollars to one secretary and twenty to another, you may have a problem on your hands. Sadly enough, instead of just being appreciative, there may be feelings of resentment if one workers gets "more" than another.
Group recognition activity such as a lunch or dinner out or an in-office party with food, drink and even a gift exchange. Even something as simple as having pizza delivered one afternoon will be appreciated. More extravagant events such as a holiday party at a local hotel's banquet room will be greatly appreciated, and your employees will know you really do recognize their hard work.
Monetary bonus. If you can afford it, your employees will be THRILLED to receive a little extra money in the paycheck before the holiday season. Give what you feel is fair and what you can afford. No matter the amount, your employees will be very appreciative of this kind gesture. Bonuses can be based on how long the employee has been there, their status in the company, and their contributions that year. Even though bonuses should never be discussed amongst employees, they will be, so if you devise a system for deciding who gets what amount, stick to it. If the vice-president gets a thousand dollar bonus, and the receptionist gets a $1500 bonus, people may talk. Bonuses are like salaries; they should never be discussed with coworkers, but, amazingly enough, some employees do share this information with their colleagues (which often leads to jealousy and resentment).
If you are looking for ways to reward and recognize employees, PaperDirect has a wide selection of certificates, trophies and plaques, and our blog also some employee recognition ideas that really work.