Proper Wording for Wedding Thank You Cards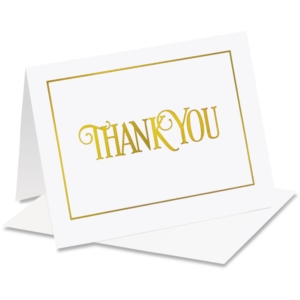 Writing thank you notes after your wedding is a must. Even in this world where most correspondence is done electronically, when it comes to thanking your guests for the wedding presents you received, nothing but a handwritten thank you card is acceptable. An email, voicemail, and especially a text message saying "thank you" for the gift are all simply unacceptable. By taking the time to hand write a wedding thank you card with proper wording, you have shown your gift givers that you truly appreciate their thoughtfulness and generosity.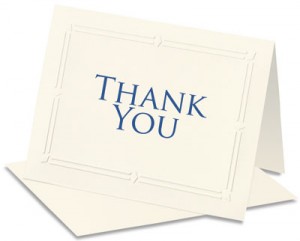 Proper wedding thank you card wording involves being very specific about the gift you received and including what you plan to do with that gift. It's also imperative that you address the thank you card properly. For example, if the gift is from your aunt and her boyfriend, then you must address the thank you card to acknowledge both your aunt and her boyfriend. It is important to be specific when thanking the gift giver because if you're not specific, the gift giver may feel as though you are just writing hundreds of generic thank you notes and that you don't even remember their gift.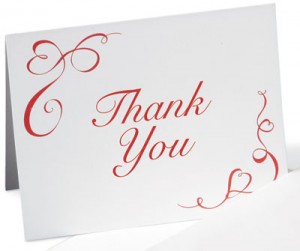 Wording Example for Proper Wedding Thank You Card:
Dear Grandma and Grandpa,
Thank you so much for the beautiful China tea set you gave us on our special day. We are planning a get together for Mom, Dad and you both in November, and this will be the perfect addition to our afternoon of great food and delicious tea. Your thoughtfulness and generosity are greatly appreciated.
Sincerely,
Jenny and Jack
When it comes to proper wedding thank you card wording, and the gift you received was money, it's important to not say "thank you for the cash" or "thank you for the money." Instead, you can word your thank you card something like this:
Dear Aunt Pat and Uncle Tom,
Thank you very much for your generous wedding gift. That will come in very handy when we start remodeling the den into a nursery for the baby we hope to have in the next couple of years. As always, you were much too generous, but we appreciate your thoughtfulness very much.
Can't wait to see you again,
Jenny and Jack
PaperDirect is your online source for all types of thank you notes. Shop for the perfect note cards for your wedding today.