Golf Party Supplies and Ideas
Seasonal & Special Events Ideas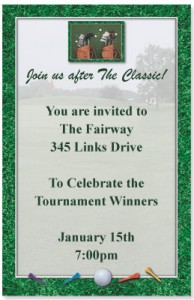 Avid golfers dream about golf year round, but with inches of snow on the ground, it's not realistic to think about having a golf party or a golf-themed party, but you can certainly start planning your golf party for the coming months. If you've been given the task of hosting or planning a golf party, you are going to need golf party ideas, especially if you're not a golfer yourself.
Invitations
You can make the golf party invitations out of material that looks like a putting green or have invitations made in the shape of a golf ball or club. Using scorecards from an actual golf course, you can create golf party invitations from the scorecards and include "Tee Time" (the time the party begins), the name of the golf course (venue location), "Course Length" (length of party) and "Water Hazards" (whether the opportunity for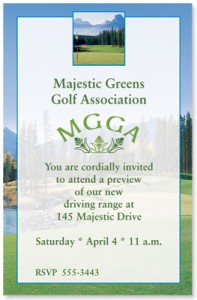 swimming is available). You may also include "19th Hole" information, which would be any additional information you'd like to include about the party such as whether or not to bring a dish or drinks, whether children are welcome, and if there is a certain attire required (golf attired would be a great idea here). Of course, it only makes sense that golf attire be required if you're hosting a golf party! Guests can even purchase "Caddy Shack" costumes and old time golf costumes including knickers and the little golf hat men used to wear decades ago. The possibilities for golf party ideas are endless. You can also include golf photos on the invitations. If the party is honor of one person, you can include a picture of him/her playing golf.
Decorations
As far as golf part supplies are concerned, you will need golf decorations. You can set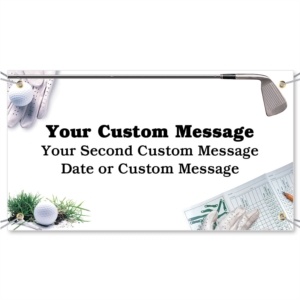 the golf tone by hanging a golf banner at the entrance with some clever golf saying or just a simple "welcome" message. You can create golf flags to note important spots in the venue such as where the food and bar are located. You can also line the walkway to the front door of your home with colorful golf flags. You can even create numbered flags and give guests a program upon their arrival that says something like, "Hole 1–appetizers," "Hole 2–salads," "Hole 3–entrees," and so on. You can also have your local copy shop blow up photos of golfers to have life-sized photos of some  of your favorite professional golfers throughout the party.
If you have extra golf bags, balls and clubs in your home (or donated by guests), you can use them as golf party supplies and place them throughout your home or golf party venue. You can even buy putting green-like turf to put along the walkway to your home or around the food/bar area.
You can set up a putting green and have a putting contest and offer prizes to winners. The possibilities for your golf party are endless, so with some creativity and some great supplies for PaperDirect's online store, your golf party can be the best one ever! Here is an idea about golf party awards you can offer to adults and children.
Shop PaperDirect online today to buy banners, invitations and any other golf party supplies that will make your party a huge success.