How to Throw a Surprise Party Successfully
Seasonal & Special Events Ideas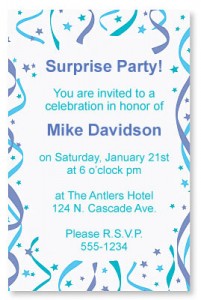 The key to throwing a surprise party is keeping the guest of honor from ever finding out, which is not easy. Another challenge throwing a surprise party presents is making sure the guest of honor actually shows up, and while many people say the only way to ensure this will happen is to hold the party at the guest of honor's home, this can be very difficult to pull off. While you may know the schedule of the guest of honor and have help from his/her family members, something may come up that will make the guest of honor come home and catch everyone in the act of organizing the party.
Once you decide where you're going to hold the surprise party, you must enlist the help of several friends and family members to make sure the party goes off without a hitch. There is nothing worse than the guest of honor finding out ahead of time that there is a "surprise" party in their honor. Then they're forced to act surprised so as not to hurt the host's feelings. Before you decide to host a surprise party, be sure the guest of honor will enjoy the occasion. Some people hate surprises so much that they may not even appreciate the gesture, which is the party host's worst nightmare. Here are some suggestions on how to throw a surprise party in which your guest of honor will truly be surprised.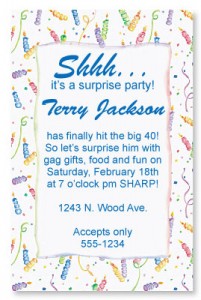 If the party is being thrown for someone in your household, ask a neighbor if you can store all the party supplies at his/her house, and make sure your neighbor keeps them well hidden just in case your guest of honor decides to stop by the neighbor's house unannounced. If the celebrant does not live with you, then you can decorate your house in advance and just make sure the guest of honor does not stop by. Be sure that the people you ask for assistance can keep a secret because some people just cannot keep something this juicy to themselves.
Another suggestion on how to throw a suprise party is to have the the party held at a location the celebrant won't consider suspicious. If you're not having it in someone's home, then choose a restaurant or bar that is familiar to the guest of honor. If you suggest going to someplace you've never been and don't have a good excuse for going there, he/she may become suspicious.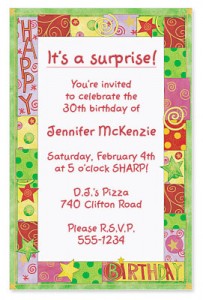 Make sure all the guests park their cars far enough away from the party site so as not to arouse suspicion. If the guest of honor shows up at a house with twenty cars, he will surely figure out what is going on.
Another great trick to surprise your birthday guy or gal is to take them to a birthday dinner and let them think that is the gift or the party. Then, after dinner you can suggest stopping by another establishment for dessert or even a friend's house to pick up a gift and that is where the actual surprise party will be.
If you are thinking about throwing a surprise party for a friend or a loved one, you must carefully plan and also plan for the unexpected. PaperDirect is your online source for party invitations, banners, and all the party event accessories you will need. The PaperDirect blog offers some great party planning tips.