Types of Wedding Invitation Packages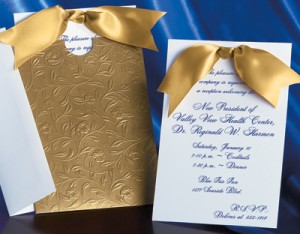 If you are planning a Do-It-Yourself wedding, you must look at wedding invitation packages and choose one that best fits your motif and overall theme. Before you looking at wedding invitation packages, you know the answer to two questions: how many people are you going to invite and how much can you spend on wedding invitations? Unless you know the exact answers to both of these questions, why bother looking at wedding invitation packages that may not fit your budget or that just don't go with your wedding theme?
Take some time and sit down with your groom see if you can agree on how many people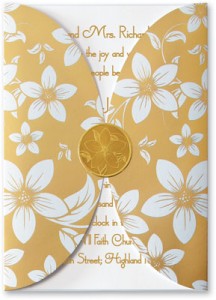 will be invited and how much you can spend on wedding invitation packages. With DIY (do it yourself) weddings, there is no wedding planner to bring you a bunch of invitations and then you just pick the one you like. (And that's no fun anyway!)
One more thing to consider when purchasing wedding invitations is the cost of the postage. Some wedding invitations are designed in such a way that additional postage might be required when mailing them. Typically, this occurs more frequently with custom-made wedding invitations. Simple wedding invitations can be just as beautiful and much less expensive when it comes time to mailing them out to your invitees.
There is something else to factor in when deciding how many invitations to get: you may want to consider purchasing extra wedding invitations because no matter how careful you are when addressing the envelopes, mistakes will happen. Better to have a few extras around and avoid the headache of what to do when the addressee realizes that the names are spelled incorrectly on the envelope. Also, additional people might suddenly make it to the guest list, and if you don't have any extras, you will not be able to formally invite these last-minute guests.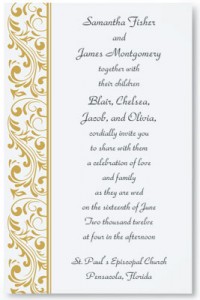 Wedding invitation packages are typically put into one of three categories: modern, classic or destination. Modern wedding invitation packages will feature the latest trends in invitation design and have contemporary patterns and motifs in modern layouts. Classic wedding invitation packages will reflect the timeless beauty of elegant, traditional wedding invitations, and destination wedding invitation packages will offer a wide variety of invitation designs that span the globe.
PaperDirect is your online shopping destination for many of your DIY wedding needs. Wedding invitations, thank you notes and even wedding placecards and other accessories can all be found right in one place: online at PaperDirect. Looking for some creative DIY wedding invitation ideas? Read "How to Dress Up Invitations" from the PaperDirect blog.