Wedding Place Card Presentation Ideas
Wedding place cards may not seem like an important detail for a wedding reception, but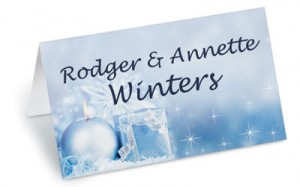 not only are they important, they're a fun detail because place cards are a great way to accentuate the theme of your wedding. Let's take a look at some ways you can enhance your wedding theme with place card presentation.
Wedding place cards are as important as the wedding menu or wedding program. Careful seating will save time and eliminate stress by creating great conversation, introducing new people to each other and avoiding family conflicts. There are many ways to display your wedding place cards for easy access and to avoid mix-ups. Traditionally, place card presentation is simple. Guests mill about and find their names on the reception tables.
Place Card Presentation by Seasonal Theme
When it comes to place card presentation, following your seasonal themed wedding is a great way to go. For instance, winter weddings call for a classic white card with tones of ivory and powder blue. You can jazz up your place cards even more with crystals and little pearls to give off a chilly, snowy feel.
Summer weddings, especially those around July 4th, can have a patriotic flair with red, white and blue accents. Summer weddings call for bright, vivid colors that shout Summer is in the Air! Easter/spring weddings call for pastels and lovely flowers of all shapes, colors and sizes.
Fall weddings are a perfect time to get those creative juices flowing when it comes to place card presentation. Think of all the autumn symbols you can use to highlight your place cards and autumn theme: gourds, pumpkins, leaves, fall colors, etc. The more creative you, the more options you have. If you don't feel very creative, you can always come to the PaperDirect blog for great suggestions.
Place card Presentation by Tropical/Locale Theme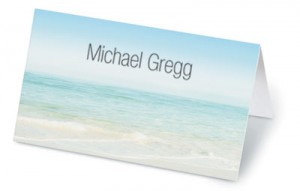 For your Hawaiian luau themed wedding, carve your guests' names into tropical fruits such as mangos and pineapples. For seaside weddings, you can present guests with seashell place card holders and arrange them in an eye-catching display.
Frequently Asked Questions About Place Cards

The PaperDirect blog offers a great deal of advice on a variety of topics, and DIY weddings is a topic that many people have a lot of questions about. Let's look at some commonly asked questions about DIY wedding place cards:
Q. How do you handle place card presentation for single wedding guests with dates? Do you just put the word "guest" on the place card?
A. You must make the effort to learn the name of each of your single guests' dates. Putting the word "guest" is not acceptable. If the guest did not fill in the name of his or her guest, you must phone or email your guest to find out the full name of the person who will be joining him/her for your wedding. Once your guest list is complete, create a place card for each individual guest rather than putting both names on one place card.
Q. Are place cards absolutely necessary for my wedding reception?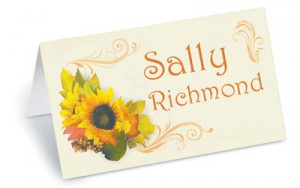 A. Wedding place cards are not an absolute must have for every type of wedding, especially small, informal weddings with very few guests; however, for large wedding receptions, place cards make things much easier for you (and your guests). With assigned seats, stress is eliminated and things just seem to go more smoothly. With thoughtful, proper wedding place card presentation, you can decide which guests sit at which tables allowing you to ensure couples stay together and feuding family members keep a distance.
Please keep in mind that PaperDirect is your one-stop online shopping source for many of your do-it-yourself (DIY) wedding needs like invitations, reception cards, response cards, envelopes, save the date magnets, wedding program paper, personalized napkins and thank you notes.
Do you feel you need more information about wedding place cards? Please read these PaperDirect blogs: