Business Holiday Greeting Cards for Clients
Marketing & Sales Promotion Techniques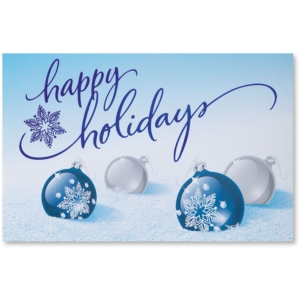 It's that time–holiday cards for clients and customers should be mailed out by December 15. If you're trying to decide whether or not to send business holiday greeting cards this holiday season, we think it's a great idea. Not only are holiday cards a tradition, but sending holiday cards to customers lets them know you appreciate them.
One thing to keep in mind when sending holiday cards to clients is to remember that not everyone shares your religion. If you don't know all of your clients' religious affiliations (and most business owners/manages don't), it's best to send a neutral "Happy Holidays" or "Season's Greetings." Sending a Christmas card to someone who celebrates Hanukkah shows that you don't know that person at all or indicates a bit of insensitivity to other people's individual differences.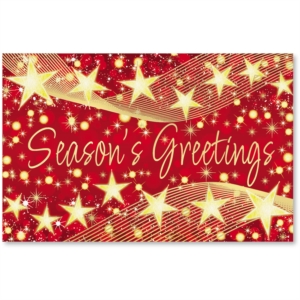 Business Holiday Greeting Card Tips
Here are some more suggestions for sending holiday cards this year:
Send business holiday greeting cards of high quality like the ones from PaperDirect. Sign each and every card instead of using a signature stamp, which can appear impersonal. Adding a personal message above your signature is a wonderful added touch that will mean a lot to the recipients.
Send tasteful cards as some clients will not appreciate an off-color holiday greeting, and you must maintain the business/client relationship even at the holidays. While you may find a card funny, your recipients may find it offensive. Keep with traditional themes and festive sayings to make a great impression on your clients.
Feel free to include your company information below your signature, and you can even include a business card inside, but if you do, you must include a personal, hand-written message. Simply including a business card with no note will look as though you're just trying to get more business. You don't want to appear to have an ulterior motive for sending out holiday greetings.
Try to avoid using computer-generated address labels as this looks tacky and appears as though the recipients are not important enough to have their own cards filled out. Even if you have hundreds or thousands of cards to mail, enlist the help of office staff to hand write the addresses, which is a nice, much-appreciated personal touch.
Use proper titles when addressing the recipients. For instance, "Dr. and Mrs. Brian Taylor is more appropriate than "Brian and Carol Taylor." If you are sending a card to a couple with different last names, be sure to address the envelope and greeting as such. For instance, "Dr. Michael Thompson and Ms. Linda Arnold." Traditionally, the man's name comes first in the address if the couple is married and if not married, put the names in alphabetical order: "Ms. Linda Arnold and Dr. Michael Thompson."
Send business holiday cards to the business address of the recipient unless you know the recipient on a personal level. If you send the holiday card to the recipient's home address, be sure to include the spouse's name in the address (if there is a spouse or partner).
Send your business holiday cards in time to arrive before the date of the holiday. December fifteenth is the standard cut-off date for cards to arrive on time in the states. International cards should be mailed out sooner. Here is a table for suggested holiday mailings.
PaperDirect is your one-stop online shopping source for holiday greeting cards. Check out our huge selection and stock up today!