Order Easter Flyers in Plenty of Time for the Holiday!
Seasonal & Special Events Ideas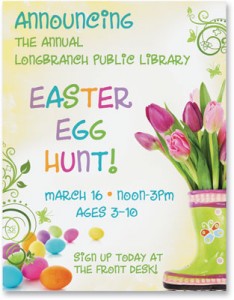 Easter Sunday is March 31, 2013, so now is the time to order all your Easter holiday supplies like invitations, flyers and banners. Are you planning a big Easter egg hunt for all the kids in the family, or is your neighborhood having a special outdoor celebration on Easter? If so, you need to get the word out with Easter flyers from PaperDirect. You'll love all of our selections in a variety of lovely pastels and festive designs to suit all tastes. As you contemplate your Easter flyer choices, check out some interesting Easter facts and maybe you can include some of this information in a game for the kids or adults. Why not make a learning experience out of your Easter celebration this year?!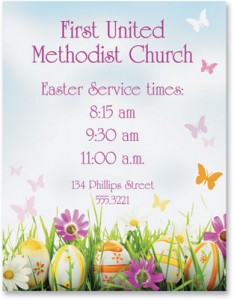 Easter Facts
Easter is one of the oldest and holiest of all Christian holidays, even more so than Christmas. What does Easter celebrate? Christians believe that Jesus was crucified on the cross and on the third day, He rose from the dead. Known as the "Resurrection of Christ," Easter is believed to bring joy and relief to Christ's followers, who began to celebrate this day to commemorate the blessed event. Here are some interesting facts about the most important Christian holiday of the year:
The word "Easter" comes from Eastre, the Anglo-Saxon goddess who symbolizes hare and egg
Easter will always fall between March 22 and April 25
The egg has long been considered the symbol of rebirth
The earliest Easter egg baskets were the shape of birds' nests
Approximately 90 million chocolate bunnies are made each year for Easter
Second only to Halloween, Easter is a huge "sweets" holiday
About 76% of people who eat chocolate bunnies eat the ears first
Do you need Easter flyers for an Easter egg hunt, religious celebration or some other type of holiday festival? Just order online at PaperDirect and your Easter supply shopping will be done!