Business Cards Do's and Don'ts
Designing Your Business Communication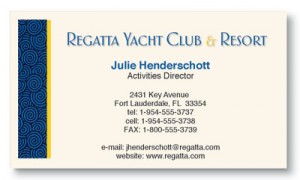 As Forbes puts it, the business card can be the "entrepreneur's best friend." Business cards represent an inexpensive, yet powerful, marketing tool that puts your information out into the world — and into the hands of potential customers, employers, business partners, and other movers shakers in your network.
That is, when it's done right.
When it's done wrong, well… the entrepreneur's BFF can turn into his worst enemy. OK, that might be a bit dramatic, but think of it this way: Often your business card represents your first — or maybe your only — chance to make a good and lasting impression. So, although no one wants a boring business card, the alternative may be even worse. Who knew these little pieces of paper were so important?
These "do's and dont's" will help you get your business cards just right.
Business Card DO's
Your card should include your essential information, such as:
Additionally, follow these tips for business card DO's:
Whatever a potential client, employer or networker would need to get in touch with you should be on your card.
Keep your card design simple. Left align tends to look less cluttered and is easier to read than center or right-aligned designs. Pick a simple, classic font and stick to it; at most, use two complementary fonts.
Use color, but keep the palette to three or — at most — four tones that work well together. Choose darker colors as they're easier to read and use larger font sizes because, again, they're easier to read.
Include your business logo and other branded materials. Your business cards should match the look and tone of your company's website, storefront and other marketing formats.
Tailor your business cards' overall look and theme to your industry. In banking or law? Choose a conservative, dignified theme. In design, art or fashion? Choose a theme that reflects your innovative style.
Finally, use high-quality cardstock and a professional printer to create your cards. After all, they represent you and your business!
Business Card DONT'S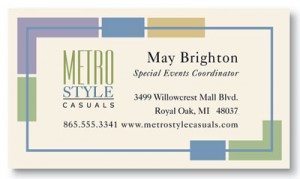 While including your essential contact info is essential, avoid including too much information. After all, this isn't your resume or your portfolio, so you don't need to list all of your skills and experience. Packing your card full will also make them appear cluttered and unprofessional.
Stick with your company's established branding. You want a cohesive, memorable look, and using too many different colors, fonts or themed elements just distracts from the overall message.
Similarly, avoid using generic clip art on your cards. It looks cheap and unprofessional.
Finally, avoid using untraditional materials, such as chocolate or soap. Yes, it's cute and creative, but once it's all used up, so is your message — and your contact info.
For professional, custom designed business cards that will create a lasting positive impression, browse the huge selection at Paper Direct!