Creative Invitations for Your March Madness Party
Seasonal & Special Events Ideas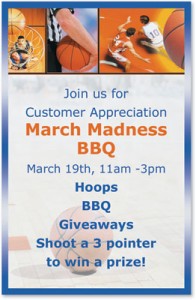 The frenzy of March Madness is here, and there's no better way to get your friends together than a basketball-themed party. You'll want your guests to get excited about your party as soon as they receive their March Madness invitations, so you need to make sure that they truly capture the essence of the game. Take a look at these creative DIY party invitation ideas for inspiration.
March Madness Jersey Basketball
Draw a jersey onto cardstock to make a template the size you want the invites to be. Place your template onto folded cardstock and trace, making sure that the top shoulders of the jersey meet the folded seam, and then cut along the lines. Add a team name on the front, player number on the back, and appropriate colors before personalizing inside. You can even send guests invitations personalized for their favorite team or player.
March Madness Ticket Invitation
Make the main event March Madness with a ticket-style invitation. Work up a mock copy of your favorite team's ticket, and fill in the party details in the same layout that you would see on an official entry pass. Make everyone feel like a VIP by laminating the tickets and attaching a lanyard so the guests can wear them at the party.
Basketball Theme Invitations
Cut out a perfect circle with folded cardstock, making sure to leave about one inch of the top of the ball connected at the fold. Use paint, markers, or crayons to bring your basketball to life.
Basketball Card Invites
Turn simple cardstock into a masterpiece quickly by gluing basketball trading cards to the exterior. Announce your projections of success by using your favorite team, or make your guests feel special by including their favorite team or player's card.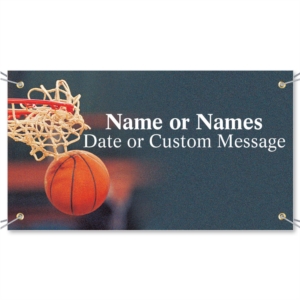 Be sure to include any details about the festivities within your invites that you want your guests to know such as any items you would like them bring, any dress requests, and be sure to include a map to your event location and contact number.
Not feeling especially creative or short on time? Choose from several creative basketball themed invitations from PaperDirect. We can help you personalize your invitations, create customized party banners, and much more to ensure that your March Madness party is a slam dunk.