Invitations to Best Backyard BBQ in the Neighborhood: Yours!
Seasonal & Special Events Ideas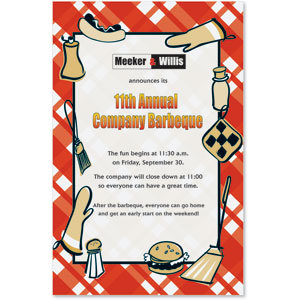 It's barbeque season again, and it's time for you to throw a great neighborhood BBQ! Dust off your grill, sweep off the deck and pull out the plastic silverware; because it's time to party!
Every great BBQ starts with festive invitations from PaperDirect. They add excitement and anticipation to the celebration while making your guests feel honored to attend your big bash.
The decorations you choose should match the invitations. That means a Fourth of July event will feature tables cloaked with red, white and blue tablecloths; while a granddaughter's birthday BBQ could feature pink and purple pastel streamers and tablecloths.
Once the invitations are mailed and the decorations planned, it's time create an amazing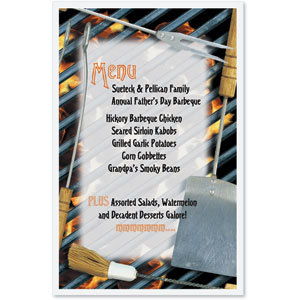 BBQ menu. You could serve traditional ribs, burgers and hot dogs; or go for a unique meal of lamb, shrimp and fresh fish marinated in homemade spice rubs and marinades. Exotic side dishes like fruit salsa, oriental salads, grilled corn, eggplant and asparagus are great choices to accompany tender meat selections.
Keeping an outdoor refrigerator chilled will help keep your cold side dishes fresh and refreshing beverages cold.  Or, fill a kiddy pool or aluminum tub with ice and set the food and drinks in it.
Like your drinks, you want your guests to stay cool, so arrange tables and chairs under the shade of the deck or backyard trees. Then provide entertainment with a karaoke machine (and if all the neighbors are your guest, you won't have to worry about noise!) or other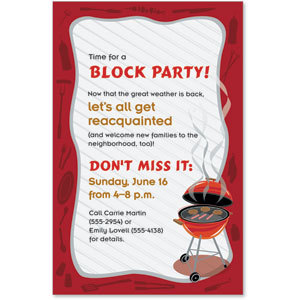 outdoor games like lawn darts, volleyball and even cards.
End the evening on a high note by providing guests a small party favor to take home. A bottle of homemade marinade, customized magnet or fresh flowers from your prized landscape shows how much you appreciate your friends and neighbors for attending your event. From the PaperDirect invitations to the personalized guest favors, you can relax because you've just hosted the greatest BBQ in the neighborhood!