Host the Hottest Summer Birthday Party with these Invitations
Event Planning Tips Seasonal & Special Events Ideas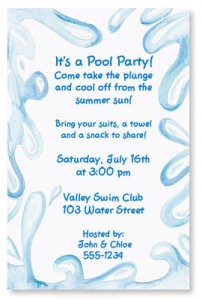 Bring on the sunshine, pool parties and barbecues! Summer time is finally here and it's time to celebrate. If you are lucky enough to have your birthday in the summer, you have been able to enjoy a lifetime having the day off when your special day arrives. Not only that,  being able to plan your party when the weather is nice gives you endless possibilities.
You need to capitalize on the perfect party weather by throwing the birthday bash of the year! So let the planning begin! First off, you need a theme. Anything goes in the summer time, but beach parties and ice cream socials are always a big hit. After you have a theme decided, your next step is picking out the invitations. Your invitations are a vital part of your party planning. They are the first impression your guests will have about your party, so you want to make them appealing!
Invitations are your chance to let your guests know what to expect at your party. For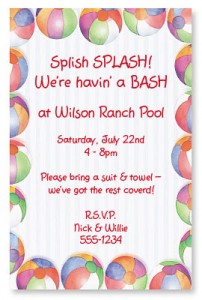 example, the ideal beach birthday invitation will help your guests escape to a tropical paradise just by looking at it. Your invitation will make your guests excited to come to your party. If you opt for an ice cream social, you will want your ice cream birthday invitation to be fun, so your guests know they will have a good time.
Once your invitations are out in the mail, you can plan the rest of your party. Make sure to choose food, games, and décor that all stick with your theme. The more thought you put into the details, the better your party will be. With the help of PaperDirect's professional birthday invitations, your birthday party is sure to be the hottest event of the summer.