Rain, Rain, Go Away: What to do When Your Outdoor Wedding Gets Wet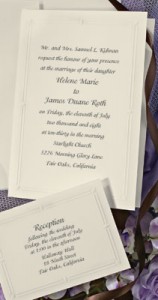 Rain on your wedding day is considered good fortune; however, most brides still prefer to get hitched without a hitch. Summer weddings are rained out frequently, and those with wedding liability insurance may have the luxury of rescheduling while others must simply embrace the situation and forge ahead.
It's advisable to always have a rain contingency plan in advance for any outdoor wedding. These tips will help you prepare ahead, and learn how to make the most of your rained out summer wedding.
Rent a Tent – You might already be planning to have a tent onsite for your outdoor wedding ceremony, but you should consider getting one large enough to hold the entire event in case of bad weather. One step often overlooked, is renting a tent floor, so the bride and groom don't have their feet stuck in the mud during the first dance. Leave the sunken feet to the cake topper!
Landscape Considerations – The dream of having your outdoor wedding within a serene valley may need rethinking. Although ideal on a perfect summer day, that gorge could become flooded quickly and put a damper on things. Check the lay of the land, and have your tent set up along a level landscape.
Put Together a Rain Plan – Write up a contingency plan, and make ample copies for each guest and vendor, so they'll know what to do and where to go if Plan B needs to be implemented on the fly. The clever, flexible bride might consider including the rain plan along with the wedding invitations and reception cards to save time.
Photography – The lighting during an overcast day is actually more flattering for photography subjects than a bright and sunny day. Be flexible and let your photographer use his skills to ensure that your wedding pictures are flawless. Use fun accessories to spruce up your rainy day wedding photos.
Make it Fun – Believe it or not, a rained out summer wedding can be fun if you plan ahead. Keep a supply of colorful umbrellas, galoshes, and weatherproof cameras on hand – just in case – and break them out if rain becomes a wedding crasher. Consider purchasing a personalized heavy weather wedding banner that will hold up through the elements and creates an excellent place for guests to take snapshots with disposable cameras.
Your rained out summer outdoor wedding doesn't have to be a bust! Plan ahead, be flexible, and simplify your event shopping at PaperDirect, where it's fun to shop for wedding stationery and supplies.