Time to Golf! Hosting a Tournament is Easy
Designing Your Business Communication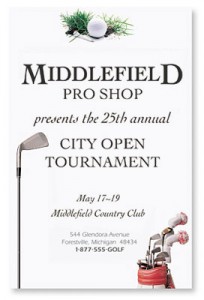 A golf tournament is one of the best ways to get the community involved and for golf enthusiasts to show off their golfing techniques. With the summer sun, clear blue skies and manicured greens beckoning, this is the perfect time for hosting a golf tournament.
Putting together a golfing event is a piece of cake especially if you use the helpful, creative and innovative products available at PaperDirect.com. From casual invitations, colorful banners and place cards, to golf brochures or tickets with a golf design, PaperDirect.com can handle all the "paper work" from the first hole to the last.
Once a theme for the tournament is selected, peruse the many products and choose the items needed to ensure a successful event staring with the invitations, envelopes and address labels with golf scenes. Add informative cool flyers and golf brochures to your advertising campaign and get the word out about tee time and tournament day events.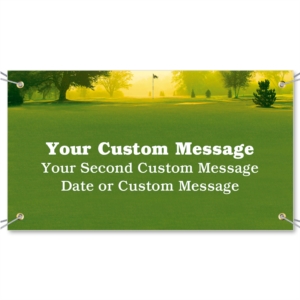 Let everyone know there's a tournament going on with colorful golf-inspired banners. These heavy weather resistant signs are easily installed and available in medium, large and extra large to fit any sized venue.
Every good tournament has awards and trophies for participants, and golf is no exception. From crystal paperweights and engraved plaques to acrylic stars and stone medallions, you'll find the perfect awards for winners and runners-up.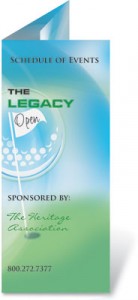 As a thank you gifts for tournament sponsors and volunteers, fill a decorative tote bags with an assortment of items such as a key ring, calendar, motivational pen, bookmark, themed Post-It notes, coffee mugs and specialty pins.
Make your tournament a hole-in-one by ordering online at PaperDirect.com, where service and quality products are on par for success.