Funny Office Award Ideas to Beat Summertime Blues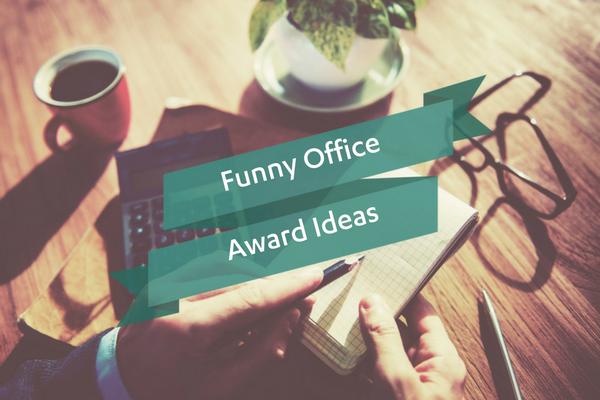 Many offices these days hold an annual company banquet as a means of showing their employees appreciation and celebrating a successful year. Why not liven up the affair by presenting employees with some funny awards?
Customize your own award certificates in a snap for a cute keepsake of the event. Have fun thinking up clever awards for the ceremony and be sure to have the camera on hand to grab a few quick snapshots of the lucky recipients.
Check out these funny office award ideas to get you started, and don't forget to shop for certificates of your own!
20 Funny Office Award Ideas
Brown Thumb Award: Every plant in their workspace is dead
Bermuda Triangle Award: The desk space where things go in and never return
Punny Award: For that very special person in the office that is always making clever puns and wordplay.
Ms. or Mr. Punctuality Award: For the ever on-time employee
Social Butterfly Award: Do you have a Tom Haverford in the office who's constantly tweeting? Deem him/her the social butterfly.
Green Thumb Award: The best plants in the office
The Iron Chef Award: This award goes to the person who always packs a delicious looking lunch while everyone else gets Subway.
The Caffeine Addict Award: For the employee who drinks the most coffee in a day
Mr. or Ms. Fitness Award: For the employee who hits the gym every day during lunch
Wise Guy or Gal Award: For the sarcastic employee who is always cracking jokes
Loch Ness Award: For the employee who is never at their desk, and hard to find
The Peyton Manning Award: Have a team leader who continuously impresses? Choose your offices favorite QB or sports star and name an award after him.
Mama Bear or Papa Bear Award: For the caretaker of the bunch
Pig Pen Award: For the messiest desk in the office
Neatest Nook Award: For the cleanest desk in the office
Excessive Gambling Award: For the employee who is always betting on the game and life in general.
Pen Stealer Award: For the person who is always walking off with other people's pens
Rookie of the Year: For the newest employee who's doing a rockstar job.
Old Timer Award: For the employee with the most distinguished history with the office
Just remember, when selecting awards for employees it is okay to poke fun, but keep the awards light-hearted and fun to avoid accidentally hurting somebody's feelings.
Whether you are having a big company gathering, or just looking to have a little Friday afternoon fun on a hot summer day, office awards are a great way to do it. Shop PaperDirect now for certificates for your office awards ceremony!