Dental Appointment Cards That Won't Get Lost in Their Wallet
Marketing & Sales Promotion Techniques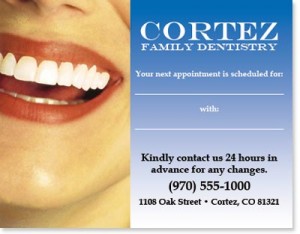 Dental appointment cards can help to keep any dental office's chairs full and busy. They also assist clients in keeping their teeth and gums their healthiest. According to the CDC, good oral health has been linked with a lowered risk of major chronic illnesses such as heart disease, diabetes and stroke.
Although most people know that oral health is crucial to a high quality of life, unfortunately many of them can be resistant to going to the dentist on a regular basis. Reminder cards make it much easier for your patients to stay on track and be aware of their next appointment.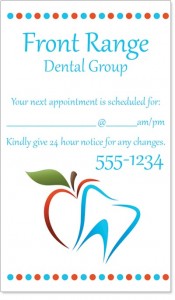 Dental appointment reminders come in several different types:
• Mailed dentist appointment reminder postcards.
• Magnets.
• Standard appointment cards.
• Sticker appointment cards.
Dental offices should consider making use of several of these types of reminders for maximum exposure, response and results. One powerful approach is to use an Appointment Sticker Card along with a mailed dentist appointment reminder card. Here is an overview of both types and how they can be implemented in tandem: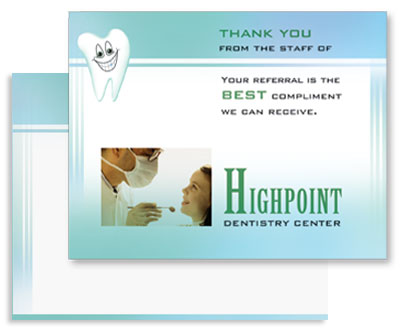 Dentist Appointment Mailer Postcards.This type of dental reminder is the more traditional of the bunch. It is usually filled out by the client when they arrive for their appointment so that it has their current address. It is then mailed to them a week or two before their next regularly scheduled appointment.
Appointment Sticker Cards.Unique and so convenient, Sticker-style dental appointment cards make for an unforgettable way for patients to recall, remember and be on time for their next dentist appointment. Sticker Appointment Cards help to reduce patient no-shows since the patient can stick the round diecut sticker wherever they choose — on their calendar, desk blotter, date book or appointment book — wherever it will best help them to remember their upcoming appointment.
Handy Appointment Sticker Cards won't get lost in their wallet; the sticker feature sets it apart from the rest, and it's far more likely to do what it's supposed to do — keep your clients on track with their dental appointments. Appointment Sticker Cards feature:
• Bold, colorful, appealing design.
• Micro-perforated 65 lb. cover stock paper includes round diecut sticker for your client's calendar.
• Can be easily personalized with PaperTemplates.
From now on, have your patients leave with sticker dental appointment cards, then follow up later with printed postcard mailers. Order today at PaperDirect.