Program Designs for Your Church's Christmas Events
Christmas & Holiday Party Tips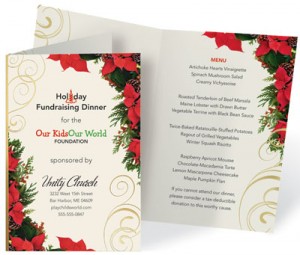 Program designs are must-haves for your church's Christmas events. They also send a very important message. Most people who see the programs will no doubt be church members. However, others will be newcomers and/or members of the community. They might be scoping out a new church to attend all year round, and Christmas is the most common time of year to do that. What do you want to say to your current, and possibly future, congregation?
The message you send might depend on the situation. A program for a children's church event should bear a less structured motif than the overtly religious one used for a Christmas Eve service. One decorated with snowmen lends itself well to the time of year while letting those who see it know the event is centered around children. The children's portion of your church's Christmas pageant, special sales to benefit the less fortunate, and other child-focused events could even have their own program.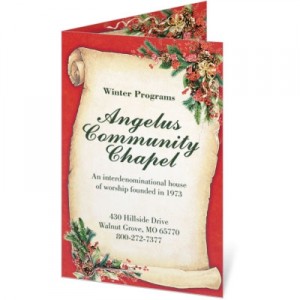 A community Christmas program should include a festive and more fanciful design. A pretty poinsettia swirl would work perfectly for your church's Christmas fair. Or perhaps you might prefer a simple Christmas scroll instead. No matter which design you choose, these programs can list what's for sale at Christmas fair booths, or direct fair-goers to food stands, rest rooms, or the information booth.
There are program designs perfect for every Christmas event that your church hosts. Ask your pastor or church secretary to check out the wealth of ideas for programs available through PaperDirect – THE source for all things paper.