5 Tips for Organizing a Company Golf Scramble
Seasonal & Special Events Ideas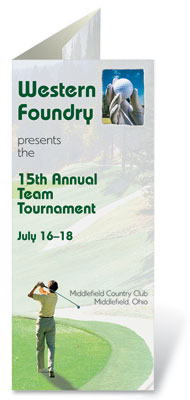 Organizing a company golf scramble is one way to build stronger teams on the job and off-the-clock. While some company organizers work with the local golf club planner to develop a charity event or semiannual outing, there is nothing wrong with in-house planning to save some money. Make it more fun by tailoring the event to fit your group!
One of the first steps in hosting a successful scramble is getting the word out. Printing sign up sheets, personal invitations and bulletin notices on golf-themed paper will generate buzz and encourage participation. Here are five more tips for organizing a golf scramble:
Flighted or Handicapped
Making the competition fair and balanced means giving everyone a chance at winning the prize. Especially if you expect more than four to six teams, establishing flights is normally considered the best approach. Encourage everyone to list their skill level and handicap – if they have one – on the sign up sheet. Decide if you want to tee off both nines or use a shotgun start based on the number of teams and the skill level variance.
By the Numbers
Decide how many teams will be allowed, tee off times, how teams will be assembled and when registration fees are due.
Establish the Fee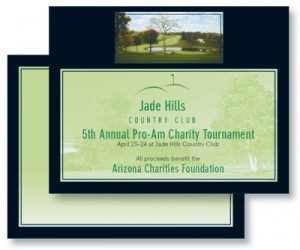 Everyone wants to know the fee in advance – and if it includes a continental breakfast, a post- competition luncheon or a simple spread of beverages and snacks. Include this information on all invitations, brochures and flyers.
Coordinating envelopes and themed RSVP cards are available with many of our invitation styles. You could also design a PaperDirect custom postcard invitation that will double as an entrance coupon for the golf scramble.
Prizes, Gift Bags and Categories
Make if fun. If you are using gift bags, decide early what to put in each bag. Every office has someone that has that coveted entertainment gene. Enlist help from the office "party-girl" for inspiration.
Determine the payout and which flights and places will qualify for prizes. Some suggestions include longest shot, straightest drive and closest to the pin.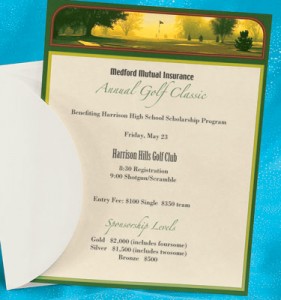 Need a Do-Over?
When printing the rule-handout, don't forget the mulligan rule. Decide if mulligans are allowed and if so, publish the fee.
Planning a company golf scramble takes organizational skills and expert recording keeping abilities. Ordering your event banners, custom invitations and registration sheets online with PaperDirect will get you to the tee on time – no mulligan required.