25 New and Improved Office Christmas Party Ideas
Christmas & Holiday Party Tips
Christmas is around the corner, and with it, the opportunity to partake in the usual awkward office festivities. But why should your company party be awkward? Throw a bash employees can actually enjoy — try incorporating one or more of the following unique office Christmas party ideas:
1. White Elephant Party: Have all attendees bring gag gifts and then randomly distribute. The unraveling will be hilarious!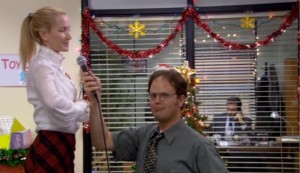 2. View A Christmas Episode Of The Office: You work in an office, so why not watch The Office? Recommended episodes include A Benihana Christmas, Moroccan Christmas and Secret Santa. Extra points if you mimic the party planning committee's hilarious themes!
3. View A Christmas Episode Of Parks And Recreation: Basically, idea number two with a government employee twist. Check out these episodes: Christmas Scandal and Citizen Knope.
4. Christmas Movie Marathon: Funny movies are best, which is why The Christmas Story should be on your list.
5. Bowling: Take your office party away from the office and head to the local alley for a fun field trip.
6. Christmas Brunch: The best Christmas presents are wrapped in bacon. Switch up the usual office holiday party menu with a brunch buffet.
7. Volunteering: Remember the real reason for the season and use your Christmas party to wrap up those Toys for Toys donations.
8. Wine Tasting: Class it up this year. If you're in an appropriate climate, visit a winery; otherwise, simply have each attendee bring a different bottle of wine to share.
9. Caturday: This only works if your office is full of feline obsessives. Ooh and ah over cute, Christmasy cat videos and give kitty-themed gifts!
10. Christmas Baking: For smaller office settings, a baking party is both tasty and fun!
11. Chocolate Indulgence: Also super fun and tasty: making and tasting truffles!
12. Ugly Sweater: Take a break from the usual office apparel and hold an ugly sweater party!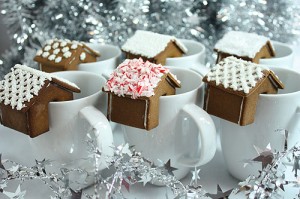 13. Gingerbread House Building: Hold a competition for the prettiest or goofiest gingerbread house.
14. Nutcracker: For the artistic minded — attend the Nutcracker as a group.
15. Bible Trivia: For a more religious take on the office party, answer questions about important Christmas passages in the Bible.
16. Pop Culture Trivia: A more secular take on the above concept — cover popular Christmas songs and movies.
17. Christmas Karaoke: A karaoke machine is all you need for this fun Christmas party!
18. Mad Men Christmas Party: Take the Mad Men party trend and apply it to your annual Christmas party. Ideally, both outfits and Christmas party invitations will be classy and straight out of the 50s.
19. Snowman Building: You're never too old or too professional to play in the snow. Have a contest for the best snowman!
20. Snowball Fight: In keeping with the idea above, hold a snowball fight, pitting office departments against one another.
21. Christmas Ties: Ditch the ugly sweaters and wear tacky Christmas ties instead!
22. Christmas Pinata: Combine holiday candy with good old-fashioned party fun!
23. Crafting Party: If your office consists of crafty types, why not scrapbook Christmas cards?
24. Ice Skating: Get up and get active with this nostalgic winter activity.
25. Halloween At Christmas: You never need an excuse to wear costumes, even when Christmas rolls around!
This year, when Christmas arrives, think outside of the box and host a holiday party worth attending! The Christmas food may not last a lifetime, but the memories certainly will!