Business Holiday Wishes that Don't Sound Like You Googled Them
Christmas & Holiday Party Tips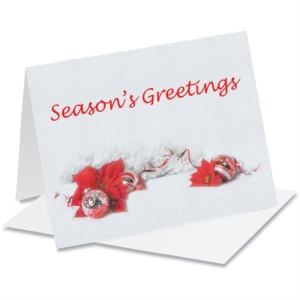 Are you looking for a way to personally recognize your staff this Christmas, and let them know you value their contributions? Along with the usual holiday round of cookies, parties and small workplace gift exchanges, Christmas cards will provide you with a straightforward method of offering business holiday wishes to each member of your staff in memorable words.
Personalize your Christmas cards
Christmas Note Cards from PaperDirect give you the perfect opportunity to completely customize your message for each recipient. These note cards are essentially blank Christmas cards, allowing you to print out or handwrite an individual greeting to each of your employees. Since they feature holiday images, but no pre-printed words, these cards are totally versatile: they can be thank-you notes or invitations as well as Christmas cards. Each notecard is one 8 1/2 by 11 sheet of card-stock folded in half, so they are easily printable on your office equipment.
Include family members' names
Too many Christmas cards sent out from places of employment have boring standardized messages printed inside. In order not to sound generic, you have to add some individual element to each card you send. At the very least, you should include your employee's family or household members in your standard good wishes: "Dear Tom, Merry Christmas and Happy New Year to you and Alison, Emma and Jaden.
Use the card as an invitation
You'll delight your employees if they open the Christmas card envelope expecting something generic from the boss — and find an invitation there to a special festive lunch at a nearby restaurant, or a weekend Christmas skating party for the whole family. Even if you're issuing the same invitation to everyone on your staff, be sure to personalize it with each person's name, and sign it by hand instead of on the word processor.
Plan ahead
The holiday season gets extra-busy, with extended hours of business and staff people taking time off. If you let the task of writing Christmas notes pile up, you'll feel overwhelmed and end up resorting to something generic just because you don't have time to be personal. By taking a few minutes in the weeks before Christmas to jot down some achievement that you specifically want to thank each person for, you'll be able to relax and enjoy writing out your notes.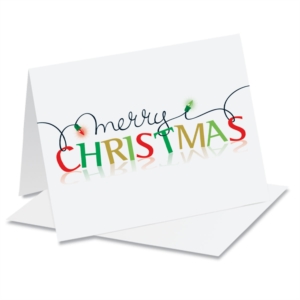 The art of communicating warm holiday wishes is based on human connections. To offer your employees a Christmas greeting that's authentic, you just need to write something on each note that wouldn't apply to anyone else. By taking just a few minutes to personalize your message, you will create an atmosphere of acceptance and positivity that will extend well into the coming year!