5 Creative Business Christmas Card Wording Phrases
Christmas & Holiday Party Tips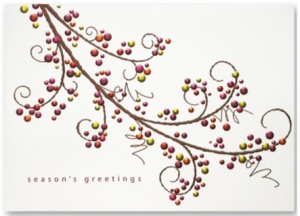 Business Christmas card wording can sometimes feel less than festive. It's tricky to walk the line between a fun, distinctive Christmas card message and keeping things professional. Erring on the side of caution is generally a good idea. The last thing you want to do is offend your clientele. Professional doesn't have to mean boring, though. When you are looking to liven up your Christmas greetings, try these snappy phrases that capture the spirit of the season.
When sending cards with a gift:
         "A small gift to thank you for your business throughout the year."

When sending cards with a marketing slant:
Some companies feel that marketing within a holiday card is tacky and defeats the purpose of wishing clients and associates seasonal goodwill.
Others have found it an effective means of increasing business.
If you do plan to do it, avoid alienating customers by keeping the advertising fun and joyful.
For example a print shop could try:
        "Wishing you a season filled with peace, love and flawless print jobs."

When you appreciate the efforts of companies with whom you collaborate:
         "We know how hard you work to make your company great. The work will wait. Take some time this season to celebrate!"

When you want to make recipients laugh at the rules of social propriety:
          "We were told business cards must be kept strictly professional, so –
           To: [Your Company]
           From: [Our Company]
           Subject: Holiday Greetings
           Happy holidays."
When friendly with another company:
          "Wishing your team a festive office atmosphere, a never ending supply of tasty holiday treats, and relaxing time off."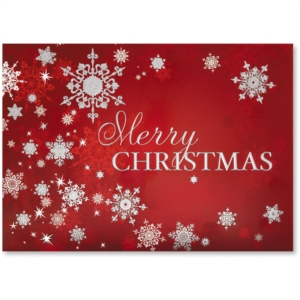 When you send Christmas cards for your business, you want every aspect to capture the personality of your team and your brand. You don't have to be serious to be professional. Humor and a casual tone are good. Just don't take them too far. If you're not sure how a quip will go over, it's best to leave it out.
At PaperDirect, our extensive line of Christmas greeting cards makes finding and ordering the right Christmas cards for clients, customers and business associates an easy process. With one of our beautiful, simple card designs and the right words, your Christmas card will surely make the wall of fame in any office.