How to Write Company Christmas Party Invites that Impress the Board
Christmas & Holiday Party Tips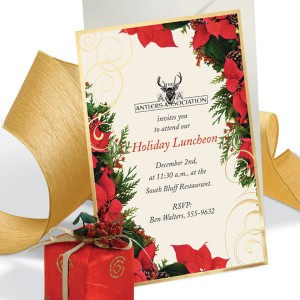 Has the task of composing this year's company Christmas Party invitations fallen upon your shoulders, and you're at a complete loss for just the right words?
Here are some tips from the experts about how to write company Christmas party invites that will impress everyone from the mail room staff to the board of directors' offices.
Begin with Premium Invitations
Cookie cutter invitations aren't going to cut it if the goal is to impress recipients, so you'll want to order premium Christmas invitations on which to compose your message and party details.
Stationery professionals like PaperDirect can quickly print your custom information and deliver your holiday party invitations right to your office or home.
Conquering the Divide
Use terminology and references that are most appropriate for your work setting.
Christmas party, holiday gathering, celebrating the season, etc. are all acceptable ways to refer to the event, and you should use your best judgment based on your employee population.
Depending on your company's business style and services, using humor may or may not be appropriate. Some individuals view Christmas as a reverent holiday not to be skewed with humor, while others find it completely acceptable.
Tip: Know your staff, and you'll know better what to write.
Composing the Text of Company Christmas Invitations
Now it comes to the "guts" of how to write company Christmas party invites that will ensure the event's success.
As with pre-printed cards, feel free to come up with a clever poem that fosters visions of the season or Christmas specifically before offering party details. If flourishing words and poetry aren't strong points, consider sticking with the facts and take a formal approach – who, what, when, where, and why.
Keep in mind that brevity works in your favor, because the majority of the staff spends half their day reading reports, briefs, and the like.
Tip: Include any special honorees, attendees, or entertainment in the invitation, as well as any requests pertaining to dress or a gift exchange.
Tips for Writing your Message or Invite:
PaperDirect has created a few resources over the years for wording and messaging tips. Be sure to check them out as you craft your Christmas invite!
Use the above blog posts to write an unforgettable Christmas invite.
Beyond the Writing: Successful Christmas Party Invites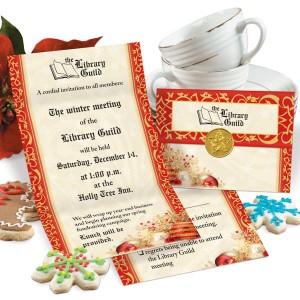 Snag their interest before they even open the invitation! Holiday card envelopes can expound beyond green and red, so consider using your company logo colors to secure your invites.
Thinking outside the box impresses the bigwigs!
Make an impression from the moment they attempt to open the invite by securing each envelope with a customized logo seal.
Clever, affordable, and a classy touch, any board member will view this as being the equivalent of sealed with a kiss – a kiss of green in their pocket, that is!
Complete your corporate holiday invitation shopping in one place at PaperDirect. Custom printing, premium stationery, corporate gift ideas, and much more make wrapping up the holiday easy.