8 Memorable Client Christmas Gift Ideas: Beyond Fruitcake
Christmas & Holiday Party Tips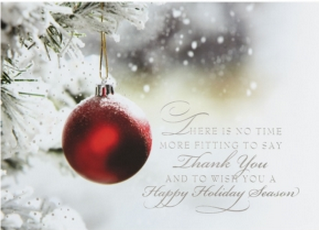 Christmas is a wonderful time, but it can bring a bit of stress with it as you look for just the right client Christmas gift ideas to say "thank you" to your loyal clients. When it's done right, your clients will remember you throughout the new year.
8 Client Christmas Gift Ideas:
Fresh Fruit Box: Don't just give your clients a basket of fruit from the grocery store; order them something special from a company that specializes in high-quality fruits. Make it even better by sending them a gift of fruit that arrives several times each year.
Make a Charitable Donation in Your Client's Name: Look into making a donation in your client's name to a trustworthy charity. You can sponsor a child, send a needy family in another country a goat or some chickens, or find another good cause. Send your client a classic Christmas card letting him know what you've done.
Decorate His Table: Send your client a special centerpiece for his holiday table. For multiple clients, work with your local florist to send a personalized centerpiece to each of them.
Personalized Candles: If your gift budget is small, get a case of scented candles in glass jars and personalize each one with your business logo on a label affixed to the jar.
Give a Unique Experience: Check out one of the sites that offers experiences such as cooking classes, skydiving, and horseback rides. Give each client a gift card for the site and let them choose an experience they'll never forget.
Host a Client Appreciation Event: Let your clients know how much you value them by treating them to a special night. Showcase as many of your services as you can during the evening without being overbearing about it.
Personalized Stationery: Buy your client tasteful, personalized stationery that he can use to write quick notes. Look for a color and style that fits him; buy a box for each person that you deal with at the same company.
Personalized Coasters: Get a set of leather, glass, or wooden coasters engraved with your client's initials. He'll think of you every time he uses one to protect his furniture.
Keep your client's tastes and needs in mind when considering your client Christmas gift ideas. Avoid gifts that may not be suitable for everyone, such as alcohol and chocolate. Remember to include a Christmas card with each gift and your clients will remember you throughout the year.