9 Big Christmas Party Ideas for Small Offices
Christmas & Holiday Party Tips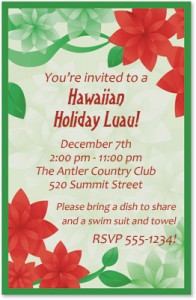 You don't have to have a big group to have a great office party: a little bit of creativity goes a long ways with Christmas party ideas for small offices. Use themed papers for invitations and announcements to get everyone in a party mood, then get ready to have a great time.
Black and White Elegance: Make your Christmas Party into a formal event by using a black and white theme. Ask employees to dress in black and white and use only black and white for table coverings, streamers and other decorations.
Movie Night: Let everybody in the office vote on their favorite holiday movie, then run that movie at party time. Use Christmas banners to announce the event and make everyone aware of the voting well in advance.
A Victorian Christmas: Decorate the party room using a Victorian theme. Make treats and decorations that would be at home in the Victorian era. Encourage workers to dress up on party day and bring a Victorian dish to share.
Christmas Colors: Go with red and green to get everybody in the office into the Christmas mood. Put up a tree and decorate only with red and green. Hang red and green lights around the room to add to the fun.
Game Night: Make your Christmas party into a game or casino night. Let your employees pick the games and offer prizes to the winners and the losers so that everybody has fun.
Polynesian Holiday: Decorate the office Hawaiian style and have a holiday luau for Christmas. Get everyone to dress in island gear and hand out leis in the office. Decorate the tree with shells and starfish and serve Polynesian food.
Dinner Cruise: Take the gang out for a dinner cruise. If your office is near the water, hire a boat, but on land you can go with a party bus and get everyone out of the office and into the party in style.
Candyland: Decorate with candies and have lots for everyone to snack on. Surprise your employees by hanging big Christmas banners decorated with peppermint candies announcing the date and time of the party.
Grinch Mystery Party: Tape envelopes under every chair. Inside each will be a note with the word "Who," but one member of the group will open his envelope to find out he's the only Grinch in Whoville. The Grinch gets to hand out gifts (or treats) to everyone to show his heart isn't too small.
Christmas party ideas for small offices don't have to be small – think big and have fun!