How to Host an Ugly Christmas Sweater Party
Christmas & Holiday Party Tips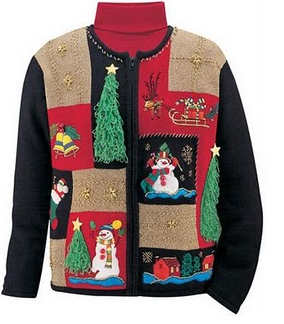 Every office party should have food and drinks, but an Ugly Christmas Sweater Party should have a few additional elements that make it unique. Check out a few tips on how to host an Ugly Christmas Sweater Party so you ensure the gathering is festive, fun and honors all those who had the courage to show up in their most frightening holiday garb.
Entice with Invites
Ensure your guests know what they're in for by sending out eye-catching invitations. Christmas postcards make an ideal choice, since you can beef up the holiday spirit with an overall Christmas theme. You can even go one better by showcasing a photo of an ugly Christmas sweater on the front with the text, "Can your ugly Christmas sweater top this? Show up at our party!"
Captivate with Party Activities
Once people are in the office door, it's integral to keep them amused. Keep the
ugly Christmas sweater theme hopping with a series of contests. In addition to the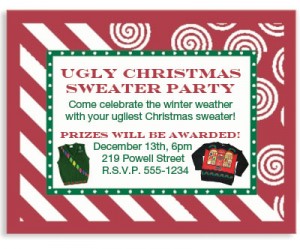 overall "Ugliest Christmas Sweater at the Party" award, you can hold a variety of other contests so as many people as possible receive prizes.
Prizes, of course, can be useful gadgets or doodads emblazoned with your company's name or logo. And there's no harm investing in a customized trophy of plaque for the top winner of ugliest sweater overall. Other contest ideas may include:
Ugly sweater that came from the strangest place
Greatest-traveled ugly sweater, based on place it came from or places it has been
Best story behind the ugly sweater, either a story of how it was obtained or reactions it evoked
Cheapest or most expensive price paid for ugly sweater
Honor Their Courage
It probably took guts for folks to show up at an office party donning a really awful sweater, and that courage should not go to waste. Set up a photo booth, capture a few staged group shots or stock your party with a roaming photographer who can capture the ugliest Christmas sweaters in action. Turn the photos into personalized Christmas postcards you can send out to the appropriate parties or use as the basis for next year's Ugly Christmas Sweater Party invite.
An Ugly Christmas Sweater Party instantly breaks the ice for party guests, since the sickening sweaters on hand instantly give them something to chat about. Hosting one at your business can help it be remembered as a place that is warm, inviting and tons of fun.