Sample Business Christmas Letters for Your First Go Around
Christmas & Holiday Party Tips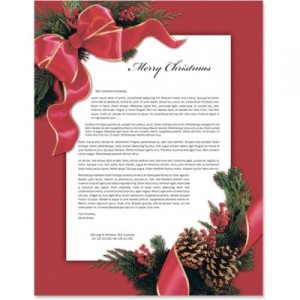 As Christmas approaches, your business may have a certain obligation to greet, and maintain connections with, a wide array of clients and fellow industry leaders. One of the easiest ways to fulfill this necessity is with the creation and distribution of an annual Christmas letter.
Unfortunately, developing a Christmas letter that is informative, interesting, and relevant is easier said than done. For a unique but practical business Christmas letter, keep the following tips in mind.
Formal Business Christmas Letter Example:
*Note you may need to edit this letter to apply more directly to your clients, customers or partnerships.
December 12th, 2022
Greetings Charles,
Very Warm Wishes from your Partners at [Company Name]. We hope this letter finds you, your employees, and your family well.
We wanted to take a moment and share with you how much we value our partnership. It means the world that you have continued to trust and rely on us through the past 5 years and we are confident that our business would not be the same with your presence.
Merry Christmas and Happy Holidays- we hope the new year brings you great joy and prosperity.
Sincerely,
Your Name
Your Business
Your Website
Your Phone Number
Casual Business Christmas Letter Example:
Happy Holiday Charles!
I wanted to take a few minutes out of my day and personally thank you for your business. It means a lot to us down here at [Company Name] and we certainly look forward to all the good times we're going to have in 2022!
Ring in the new year with your friends and family, and we'll see you next year. Merry Christmas!
Best,
Your Name
Your Business
Your Website
Your Phone Number
Other Tips for Letting Writing:
Keep It Succinct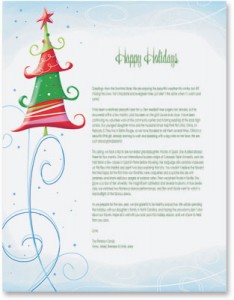 Details are great when you're writing a Christmas letter, but you don't want it to be too dry or read like a stream-of-consciousness novel.
Highlight one or two important happenings from the past year before continuing to the usual Christmas greetings. A colorful story that ultimately connects to the Christmas season is ideal; this will help to better organize your letter, while keeping the focus on this all-too-important time of year.
Be sure to begin and end each letter with a mention of Christmas — and utilize the letter's body for company updates.
Don't Be Afraid To Follow In The Footsteps Of Great Writers!
Do you know of a client or vendor who never fails to send excellent Christmas letters? Why not look to this individual or organization as inspiration for your own letter writing process?
Make a point of hanging on to the best Christmas correspondence each year and then using it as a starting point for your future writings. These sample business Christmas letters should prove especially useful if you find yourself stuck with an annoyingly persistent case of writer's block.
Reflect The Spirit Of The Season With Your Border
Obviously, you want to distinguish yourself with a letter filled with intriguing content. But if all else fails, you can always redeem yourself through the selection of a cheery border that is in keeping with the spirit of the Christmas season.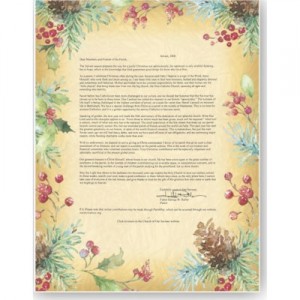 Look for Christmas border papers with familiar holiday concepts, such as mistletoe, holly, candles, ornaments, or for a religiously significant touch, angels. Your border should reflect the tone of the letter; if the content is not cutesy, a border with adorable dancing snowmen might not be the most appropriate.
Writing a business-oriented Christmas letter can be nerve wracking, especially as the implications for this year-end communication are so significant.
But with a little care, you can easily craft a meaningful letter that will get your business off to a great start come January! For more tips on Christmas letter writing, view last year's post.