10 Best Office Christmas Party Games and Activities
Christmas & Holiday Party Tips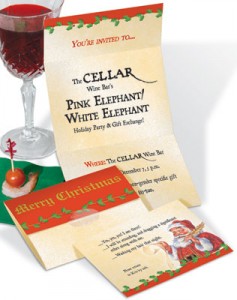 Make this year's office Christmas party one to remember. Before sending out those Paper Direct invitations to ask everyone to the party, plan some super Christmas party games and activities:
Who Am I? All you need are sticky notes, pens and an imagination. Write down names and place them on players' foreheads. They have to ask questions to guess who they are.
White Elephant Gift Exchange Set a price limit for gifts and draw names for a fun exchange.
Fill the Wagon Pick a charity and fill a wagon with toys and gifts for those in need. Local social services agencies can suggest programs to support.
Two Truths and a Lie Everyone must reveal three secrets; other players must guess which is true and which is a lie. The one who fools the most people with their real and fake facts wins.
Sticker Stalkers Players have sheets of 10 stickers that they must surreptitiously stick on others. The first to tag 10 players wins.
Photo Booth Set up a corner with a camera, remote and props for funny pictures.
Funny Employee Awards Make silly awards for things like Best Baker and Funniest Monday Morning Stories. For the ultimate effect, print the awards on official-looking certificate paper.
Holiday Gift Hot Potato Like musical chairs, but the presents move. Turn on music and pass a gift around. Whoever is holding it when the music stops is out and keeps the gift.
How Did We Meet? Draw names, then make up crazy stories about how you met the person you are paired with. Funniest story wins.
Christmas Carol Charades Act out your favorite Christmas carols. Everyone will love the hilarious results.
Games and activities like those above help you and your office mates bond, which makes you an even more effective team. Create some great memories together that will make for warmer relationships throughout the year.