5 Ways to Say "Thank You for Your Business" during Christmas Time
Christmas & Holiday Party Tips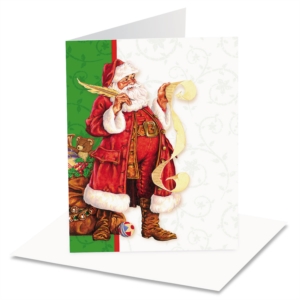 It's that time of the year, the glorious season of giving, and you're looking for ways to say thank you for your business to those top customers or enterprises that you partner with regularly. Save time and money by partnering with Paper Direct, where a vast selection of customer appreciation gifts for Christmas can be personalized to capture your holiday message perfectly.
Personalized Notecards
One of the easiest ways to say thank you for your business is just to go ahead and say so with seasonally appropriate Christmas notecards custom tailored for your business. Dress up your notecards with matching envelopes, decorative self-adhesive seals, and you may even consider including a gift certificate of sorts offering a free or discounted service in the future.
Custom Gift Certificates
Say thanks for your business and entice them to continue working with you by sending customers, clients, and collaborates a customized gift certificate. Offer discounts, free services, inspections, or whatever concept is appropriate for your business. You can order blank certificates and printable gift certificates, and we offer templates to ensure that your gift certificate papers print perfectly the first time.
Personalized and Motivational Notepads
More ways to say thank you for your business include inspiring or business-worthy notepads. These can say, "thanks," "great job," or have the recipient's name or business head imprinted for a professional look. Find your ideal customer appreciation gifts with PaperDirect's extensive selection of personalized and motivational notepads.
A Customer Appreciation Reminder All Year
Post-it® notes are one of our favorite ways to say thank you for your business. After all, who doesn't find these nifty notepads handy? Whatever size, shape, color, or design you're looking for, you'll discover that PaperDirect offers an extensive selection of customizable and blank Post-it® notes
Magnetic Calendars
By far, one of the most popular ways to say thank you for your business happens to be a customer's favorite to receive. Magnetic Calendars tend to end up on the refrigerator rather than the trash, meaning that your message of "thanks" and your business logo is seen all year long! Magnetic calendars are clever, appreciated, and a great way to show customer appreciation at Christmastime.
There are plenty ways to say thank you for your business, and PaperDirect gives you to access to the widest selection of business, corporate, and personalized Christmas gifts and stationery at the absolute best prices. Shop PaperDirect today!