5 Unique Wedding Banner Ideas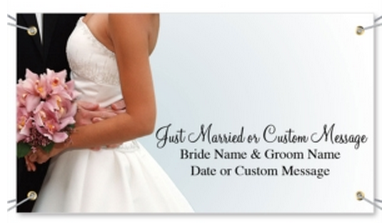 While attaching a "Just Married" sign to the bumper of the bride and groom's car is a classic wedding decoration (the DIY placard has been featured in countless films over the years), you might want to stray from the typical on your big day! If you want to surprise the newlyweds or your guests, you're going to have to come up with something original and customized. Here are 5 unique wedding banner ideas to consider:
1. Photo booth
If you want to set up some type of photo or video booth for guests, add a custom banner as the background. Whether it's a romantic quote or silly scenery, the photos will create amazing keepsakes.
2. Add a Quote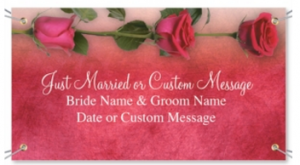 Add a photo of the newlyweds, an inspirational quote, or a romantic line from a classic film to the wedding banner. From "Casablanca" to "As Good As It Gets," there are numerous romantic movies to choose from. Find a quote that best suits the couple in question.
3. Entrance/At the Table
Make the bridal party table stand out by hanging a congratulatory banner as they arrive to the reception. Wait to hang it until they arrive and the bride and groom will be surprised and honored!
4. Making your Exit
As the bride and groom exit their wedding, consider ordering a wedding banner to bid them farewell. You could design the banner with their honeymoon destination, well wishes from family and friends or a simple Mr.  & Mrs. photo. Then, place the banner on the back of their getaway car to let everyone know.
5. Direction Banner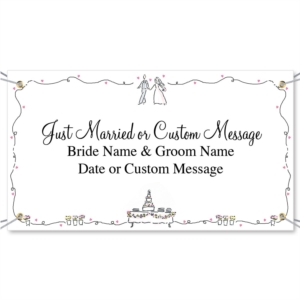 If you're having a large wedding, your guests might need some direction. Consider creating a banner that directs them to each different locations including: parking, ceremony, cocktail hour and reception hall.
To find more unique wedding ideas and order banners, visit PaperDirect Wedding.