What to Include on Graduation Announcements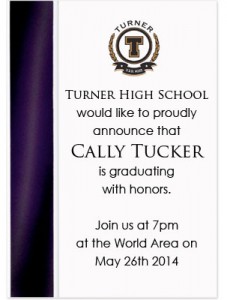 Deciding what to put on graduation announcements seems like a simple task, but being creative and elegant at the same time can be difficult. Here are simple tips for graduation announcements:
1. Basic Info
You'll want to include all the necessary information like place and time, but you still want it to be interesting. Some ideas:

[FULL NAME]
Is graduating with honors from Central High School
On May 26th at 7pm
At the World Area

Come Celebrate [FULL NAME's] graduation
From Central High School
May 26, [YEAR] at 7pm
More details to follow

Central High School is honored to announce that
[FULL NAME] is graduating.
Join us at 7pm at the World Area on
May 26th [YEAR]

Your announcements need to be recognizable and capture the proud feelings and high spirits while maintaining a professional tone. After all, graduation is a social event, so make sure your announcements are socially acceptable!
2. Quotes for Graduation Announcements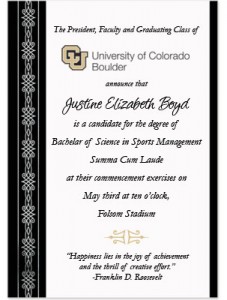 "How can I make my graduation announcements different?" you may be asking. "Aren't the students' names, class, and list of events enough?"
They are. But many students don't want to settle for enough. More importantly, many students and parents don't even know they have options. Having custom options makes your announcement even more unique!
You can set yourself apart by using inspirational quotes that can be printed on the announcements.
Some popular achievement quotes:
"Happiness lies in the joy of achievement and the thrill of creative effort."
-Franklin D. Roosevelt

"A man can be as great as he wants to be. If you believe in yourself and have the courage, the determination, the dedication, the competitive drive and if you are willing to sacrifice the little things in life and pay the price for the things that are worthwhile, it can be done."
-Vince Lombardi

"I know you've heard it a thousand times before. But it's true- hard work pays off."
-Ray Bradbury
3. Other things to include on graduation announcements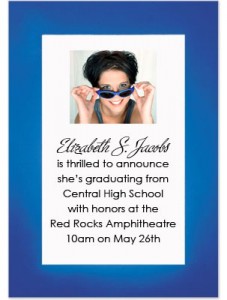 It's fine if a student wants to mention his or her participation in a favorite activity, such as sports, cheerleading, drama, clubs, or high school band. The same goes for mentioning which college he or she plans to attend after graduation.
However, you should encourage families not to mention the students' awards won, games played, honors won, etc. when you help them with graduation announcements. Most other people will find it in poor taste.
The exception to this rule is when the graduating student is valedictorian, salutatorian, graduating with honors, or is receiving an honor that is directly related to the graduation ceremony or the type of diploma they will receive.
Order graduation announcements and party invitations today from PaperDirect!