Last Minute Wedding Programs!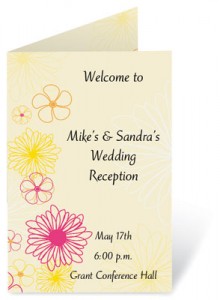 Weddings can be stressful! When it's your job to plan the big day, you know that almost everything has to be done months in advance. The bride's and bridesmaids' dresses need to be ordered and fitted, the invitations have to be chosen, sent to the printer and mailed out, and the florist, caterer and baker need to be booked well ahead of the wedding.
In all the hustle and bustle of planning weddings, at least there's one thing you can usually hold off on until the last minute: the wedding programs! If you choose desktop printable paper and an accompanying design template, you can print the programs off a few days before the wedding and they'll look professional and sophisticated.
A Few Last Minute Ideas: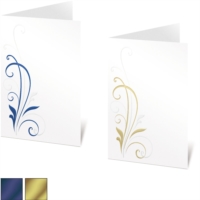 This simple and elegant blue foil program allows for easy and fast formatting.  We send the programs to you and you design and print them on your own. These ship out fast so you can get them in time!
Loops Specialty Programs: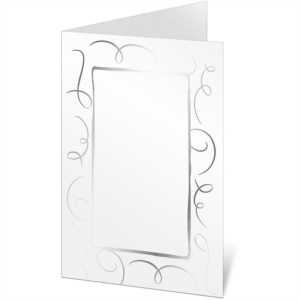 These are a bit more fancy and fit into almost any color scheme. Choose between silver or gold foil and print at home. Download a free template to help you with designing your program.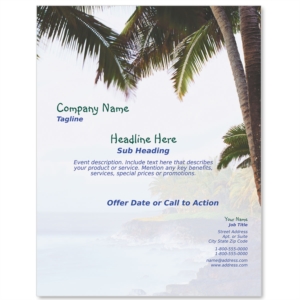 If you're having a beach or tropical-themed wedding, choose this simple and inexpensive designed paper. Simply order and print at home!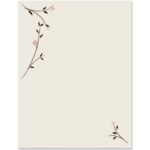 This is another inexpensive option that is perfect for a spring/summer wedding. This minimalist design is charming and whimsical.
View our entire selection of wedding programs.
What to Include on the Programs
Wedding programs give guests an idea of the order of the wedding ceremony and the details.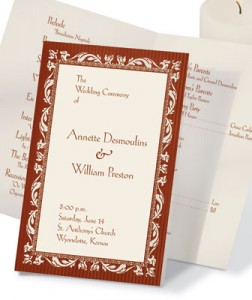 They should include:
names of the bridesmaids
names of groomsmen
flower girl
ring bearer
The program should also list the names of anyone who participated in the ceremony, such as the soloist or friend who read a special poem, plus the name of the officiate and any ushers.
Include the order of the ceremony in the program, to give guests an idea of what to expect. List the processional first, then the songs, readings or traditions, such as the unity candle, in the order they will occur. Next, list the vows, the ring exchange and the pronouncement of marriage. If the ceremony includes hymns sung by guests or a reading from a book, you can include the lyrics or words in the program, too.
Often the bride and groom include a special message to guests at the end of the program.
When you need paper for wedding programs in a hurry, check out PaperDirect. Orders are shipped the same day for your convenience.