When to Send Greeting Cards to Business Associates and What to Say
Designing Your Business Communication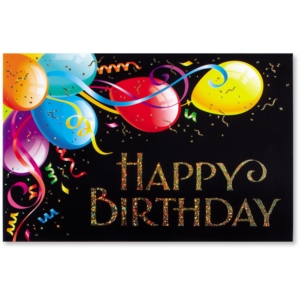 The greeting card can be an excellent tool for fostering close relationships with your clients and business associates. The right card can transform you from a simple professional contact into a real person, capable of connecting on a deeper level. However, walking that fine line between just personal enough and inappropriate can be difficult; it's important for your to know exactly when to send greeting cards. The following are a few situations in which greeting cards are appropriate:
"Birthdays"
If you know your client's business's anniversary is quickly approaching, it's in your interest to mark the occasion with a memorable card. Congratulate their # of years with a fun, colorful birthday card. This keeps the tone light, yet thoughtful. Be sure to include a friendly message on the inside of the card — your client will appreciate your thoughtfulness!
Christmas

When December arrives, business leaders begin sending out dozens of holiday cards. You'll want to follow suit, for you really don't want to be the one contact that fails to send a touching message. It's also important that you carefully consider the type of card you're going to send, as you run the risk of offending your business associate if you send the wrong message. If you don't recall your client making references to Christmas in the past, you might want to play it safe with a "Happy Holidays" card. Either way, you'll be able to share the spirit of the season with the help of a cheerful card from Paper Direct.
New Year's Day
If you're willing about the possibility of offending a client during the holiday season, consider swapping your go-to Christmas card for a New Year's message. The great thing about this type of holiday greeting is that you can harness your creativity, perhaps with a card that incorporates the calendar for the coming year.
Thanksgiving
If you want to break out of the mold and set yourself apart from the competition, there's no better way to do it than with a Thanksgiving card. Incorporate fall colors in the design and, on the inside of the card, tell your associate that you're grateful for your continued relationship. This message will stand out, as your contact is not likely to receive many additional Thanksgiving cards.
No matter when you decide to send your best wishes, you'll be able to find a card that perfectly captures your sentiments with the help of Paper Direct.