10 Employee Service Award Ideas
Recognition & Motivation Ideas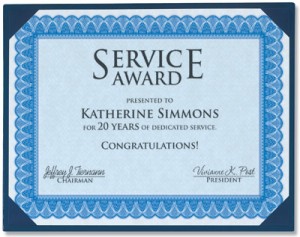 One of the best ways to ensure the success of your business is to secure the best and most productive employees — but hiring high quality candidates isn't the only way to guarantee that you are going to get a good return on your investment.
You need to reward your employees and show them that you appreciate their hard work and effort. Employee service awards are a wonderful and affordable way to show your workers that you care.
These employee service award ideas are sure to be a hit among the workforce at your business.
10 Employee Service Award Ideas
Provide your employees with a gift certificate to a local restaurant, allowing them to fully enjoy their time off from work.
Create a certificate that allows them to enjoy a casual day of dress at work.
Reward an employee with an extra day off to use as they wish.
Throw a company party, allowing all of your employees to let their hair down and relax while at the office.
Bring in breakfast as a surprise. Perhaps create a hot breakfast buffet, or opt for a continental breakfast of fruit, coffee, doughnuts, and bagels.
Designate a special parking spot for a top-notch employee, and rotate who gets to use it on a regular basis.
Send a personalized thank you note to an employee who has put in extra effort or shown a lot of growth in recent weeks.
Create awards for personal accomplishments that employees might achieve, such as running a marathon or celebrating a milestone anniversary.
Design a certificate that provides employees with an extra-long lunch hour. Give it out every once in a while to employees who deserve a little reward for something they have done around the office.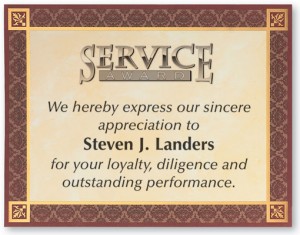 Your employees are an integral part of your business, so it's essential that you recognize their contributions and the important role that they play.
These employee service award ideas will help you easily and effectively show your employees that you care, while staying within your tight budget at the same time. Your employees are sure to be excited when they receive a reward, and they will be motivated to continue to do their best for you and for the company as a whole.
For more great ideas on rewarding your employees, visit PaperDirect.com today.