Why Peer to Peer Recognition is Just as Important as Top Down
Recognition & Motivation Ideas

Companies that have a recognition program in place are doing something right. These programs increase employee satisfaction and reduce turnover rate substantially.
However, a study conducted by Bersin by Deloitte found that 87 percent of recognition programs focus on tenure rather than performance.
This type of recognition is a holdover from the days when people stayed with a company for 20 or 30 years. These days, though, most employees stay with an employer for an average of 4.4 years. And that is expected to decrease as more and more millennials enter the workforce.
If companies want to retain good employees, their recognition programs need to change with the times.

When revising tired old recognition programs, implementing peer-to-peer recognition is a smart place to start.
Why? Because the same study mentioned above also found that employees feel "much better when recognized by their peers."
Top-down recognition programs can come across as political. The employees who are in the trenches may feel that they will never catch the attention of top management. So for them, there is no real incentive to work harder if they don't think they have a chance be recognized.

However, peer-to-peer recognition programs open up the field for anyone to nominate and recognize anyone else within the company. And when someone receives such an award from one's peers, it also holds more meaning and carries more weight.
Ready to implement a peer-to-peer recognition program? Here are a few ideas to get you started:
Get input from employees
This is an essential first step. Ask employees what they'd like to see in a recognition program. What kinds of achievements would they like to recognize? What type of awards would they like to receive themselves? You may not be able to do everything they suggest, but it will give you a good idea of what they find motivating and valuable.
Put together a diverse committee
Make sure all levels in your company are represented on the selection committee. It defeats the purpose if employees nominate but the final selection is made by management.
Get creative with awards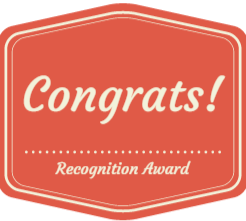 First, always make sure that the employee receives a certificate and other award that they can display in their work spaces. These can then be supplemented with other creative, out-of-the-box incentives. For example, maybe the employee gets a special parking place or a month's worth of java at the local coffee shop or a gift certificate for a well-deserved massage.
As always, the more thought your company puts into recognition, the more appreciated and powerful it will be. And the more happy and productive your employees will become.