10 Award Ideas That Fellow Employees Can Vote On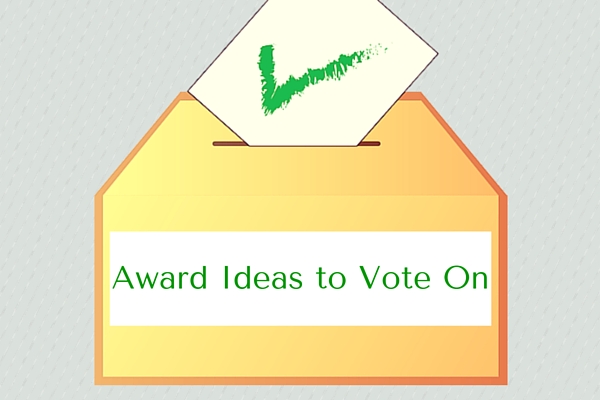 Spice up your company holiday party. This year channel your inner high school yearbook editor, and hand out some novelty awards at the gathering. Who's most admired in the office? Who's destined to win an Emmy or Grammy some day? Let your employees decide! Here are 10 award ideas to vote on before your party!
Most Admired in the Office
If there someone who everyone looks to for sage advice? This employee is probably a long-time fixture at the company and has worked in several departments before rising to their wise, respected position.
2015 Leadership Award
There are leaders in every organization and company. Have your employees vote on their fearless leader and announce it at the company party.
Most Poised 
There's that one person that always looks put together. Their hair could be photographed for a magazine cover at any moment, their outfit is impeccable and they just always seem ready to tackle the day no matter what gets thrown at them.
Rookie of the Year
This award goes to one of the newer employees that has not only learned quickly and contributed, but went above and beyond during their first year in office. Make sure there are a bunch of rookies if you plan to use this one.
Most Likely to Become a Talk Show Host
Is there a co-worker who can turn anything into a conversation? They're the person who goes to a conference and instantly makes friends with the person sitting next to them and can tell you the person's entire history after just 10 minutes of chatting.
Resident Rock Star
Who has a side band? Or, plays music as a hobby? Honor this person's musical talents by predicting their upcoming fame on the radio airwaves — or local open mike night at the corner coffee shop.
Most Likely to Start a Social Media Platform
They Tweet, Pin, Share and +1 faster and more often than anyone else you know. This person is likely trying to devise the perfect social media outlet that combines all the best features of the current platforms.
Our "IT GUY"
Has your cube mate reached over and typed a bunch of code into your website and magically made it look amazing? Each office has that closet hacker who can probably fix all the company techie issues better than the IT department.
Did Someone Say Coffee? Award 
This person has a cup of java in their hand 24/7, day and night. At some point, you think they will start growing coffee beans from their appendages and smell like French roast because they are saturated with coffee.
Next Food Network Star
This person brings in the most delectable homemade treats for office birthday parties and slow cooker creations for company potlucks. You have several of his or her recipes saved in your email and actually dream about what they'll be whipping up next.
So, are you ready to make some award certificates for these uncommon accomplishments? Paper Direct has a huge selection of festive holiday paper certificates to choose from online. Shop and design your awards today!