Elegant First Communion Invitations
Seasonal & Special Events Ideas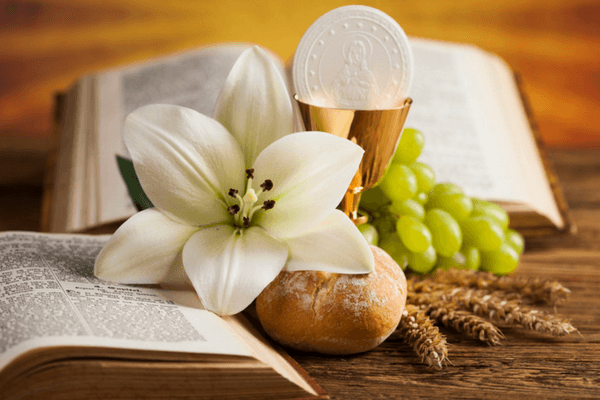 First Communion is a special time, and you want to make sure your invitations are just as special. Due to the formal nature of the event, a child's first communion aligns especially well with invitations that are just as elegant as the entire affair. Here are some tips for creating an invitation with an elegant and sophisticated vibe.
Choosing the Stationery
Loud colors, boldface type and cartoon images are out. Church-themed, specialty invitations, postcards and border paper are in. Folded invitation cards are always a traditional classic, but you could also opt for postcard-type invitations sent out in matching envelopes.
Pick a subdued background color, such as beige, gray, light blue or pink. Add a dabble of flair by opting for a decorative border or subtle imagery throughout the background.
Choosing the Font
Script always adds an elegant flair to any invitation it graces, although it can be tough to read if it's used for the entire text. A wise compromise is to use script for the text that you want to emphasize, such as your child's name, the name of the church, and the request for invitees to RSVP.
Use a standard yet highly readable and attractive font for the rest of the text, such as Bookman Old Style, Georgia, or Baskerville Old Face. Times New Roman is another classic standby that works well in many situations.
Wording to Use
The wording for your first communion invitations should highlight the first communion recipient's name while providing all pertinent details guests need to know to attend. These include:
Mention of First Communion

Name of First Communion recipient

Date and time of mass

Name of church (and location if people aren't familiar with it)

Details on brunch, lunch or celebration following the mass

Where the post-mass celebration will be held

RSVP request and number to call
An example of First Communion invitation text that covers all the above bases would look something like this:
Please join us to celebrate the
First Holy Communion of (our son/daughter)
Jane Doe
Sunday, June 25, 2017
10 a.m. mass
St. Philips Church
Lunch immediately following
Casa Diedra
1426 E. Saguaro Road
Phoenix  
RSVP to (555) 555-5555 or e-mail address
Sticking with traditional wording, font, layout and stationery will create a classically elegant and special look for your first communion invitation, instantly letting guests now how important the occasion is for you, your family, and especially the recipient of this special sacrament.  
Still need help with your invites? Contact PaperDirect today and have one of our experts guide you in the right direction.