Tips for Junk Journaling Beginners
Did you know that the scrapbooking trend started in the 19th century? Back then, scrapbooking consisted of collecting and recording information about a family or individual in a decorative album. Scrapbooking is still around, but it has greatly evolved over two centuries, and in the mid-2000s Junk Journaling gained popularity.  Check out PaperDirect's junk journaling page for even more ideas!
What is "junk journaling?" The definition can vary, but the essence of it is to collect and record memories, thoughts, ideas, and inspiration using found and recycled materials (e.g., old books, papers, maps, sheet music, etc.) into a handmade book. Since no two junk journals are the same, the purpose of a junk journal can also vary. These are just a few examples of the different purposes:
Types of Junk Journals
Everyday Journal — this is a scrapbook version of a diary; it tells the story of your day using materials and quick notes instead of long paragraphs
Planner — a unique, more creative way to stay organized than "dry" spiral-bound planners
Memory Book — a more tangible and visual way to remember a special event instead of paraphernalia tucked away in a box
Personalized Gift — use the junk journal as a gift idea for the holidays, graduations, weddings, and/or anniversaries
Theme Book — use an overall theme to bring your junk journal to life; popular themes are flowers and vintage
Art Journal — this is a fun way to present your own artwork and bring lots of mixed media together
If you're a creative and/or crafty person, or just like the idea of junk journaling, we can help you get started! Use the following steps and ideas to draw inspiration from and create your first junk journal.
1. Choose a subject or purpose.
Create a junk journal for yourself using any of the above ideas or create one as a gift for a friend or relative. The subject (aka theme) can be very general (flowers, food) or be more specific, like modeling it after your favorite book (e.g., Alice in Wonderland, Twilight).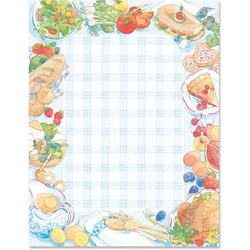 2. Choose a book binding method.
Bindings can range from basic (three-ring binders, notebooks, hardcover journals) to handmade (fabrics, cereal boxes, thread or yarn).
3. Collect tools, supplies, and materials.
Tools include hole punchers, scissors, glue sticks, tape, ink stamps, and other "hardware." Materials for the inside can vary widely depending on your own style, but some ideas are: paper ephemera, ribbons, laces, flat charms, photos, tabs, paperclips, bookmarks, playing cards, etc. Paper "ephemera" can be themed stationery papers, ticket stubs, postcards, envelopes, wrapping paper, printed quotes, magazine clippings, brochures, maps, et al. NOTE: If you find yourself really liking junk journaling, you may want to invest in some storage containers or bins to organize your tools and materials.
4. Assemble and prepare the base.
If you chose a three-ring binder or notebook, this step may not apply to you, although you can certainly embellish those to make them more personable. Handmade bindings involve gathering materials, like a cereal box, yarn, and fabrics, to create the cover for your inside pages.
5. Fill your junk journal.
This is the fun part, where your style and your voice come to life on the pages. Arrange your materials however you like, whether it's in layers, collages, or grids. For more in-depth ideas and instruction, there is a wealth of articles, blogs, and videos on the internet to help you. One of our favorite articles is here.
If you've read this far, you know that the bulleted lists above are mostly informative and referential. When it comes to junk journaling, please note that there are NO rules! Every junk journal is unique to the creater and/or recipient. The most important thing when it comes junk journaling is to have fun.