Field Day Sports Certificates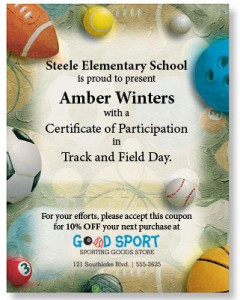 Who doesn't remember your school's "field day" toward the end of the school year–the day the whole school competed in a variety of outdoor competitions like the egg toss, three-legged race and relay races? If your principal were cool enough, you may have even gotten to have a dunking booth with your teachers in the hot seat. Field day is a day that both students and teachers look forward to because it's a way to celebrate the end of a great year, teach sportsmanshipand just have fun outside of the classroom.
If you're getting ready for your field day, you will need sports certificates to award the winners and for those who participated but may have fallen short of first, second or third place. PaperDirect is your online shopping source for award certificates to fit just about any occasion and any age group.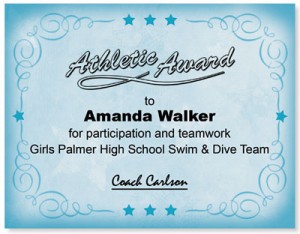 PaperDirect has certificates for just about every accomplishment, so the only problem you may have is choosing which design you like best. Want to design and print your own? We can teach you how to make do-it-yourself award certificates for all occasions. All you need to provide is the computer! If you want to create your own professional-looking sports certificates, PaperDirect has award certificate templates to help you design and print certificates, and you will be amazed at how easy it is. Our free desktop printable templates format your certificate automatically, with preset margins, borders and tabs. We also offer a certificate template CD with a variety of certificate headings so you can make as many certificates as you like whenever you like.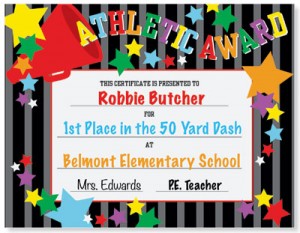 If you would like a pre-designed desktop printable certificate, we offer free individual certificate templates. Simply find the certificate design you wish to purchase and click "Choose a Template" on the product page of our website. Then select either a Word or Publisher template. PaperDirect will email a certificate template right to you at no charge.
Award certificates are fun, and with added features like certificate seals and certificate jackets and folders, they can last forever.