Mother's Day Party Ideas
Seasonal & Special Events Ideas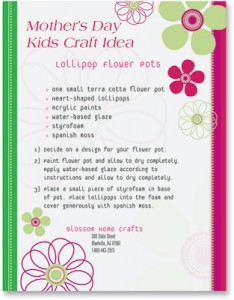 Mother's Day is a very big deal for many men and women around the country, as it's a day to honor the woman who brought us into this world and make her day as special as possible. Whether you want to honor a biological mother, stepmother, adoptive mother, grandmother or just someone who has been like a "mom" to you your whole life, what better way to say I Love You, Mom than with a Mother's Day Party.
Some mothers will prefer a more low-key type of celebration–maybe just a quiet family dinner at home or in mom's favorite restaurant. But for those moms who like a good party, why not use these Mother's Day party ideas to throw mom a bash she'll never forget!
When considering throwing a party for someone, it never hurts to find out how they feel about parties. If you know your mother is shy and prefers the company of family and maybe a few close friends instead of hundreds of acquaintances, then you should nix the idea of a Mother's Day party altogether. But if you know the special woman in your life enjoys a good party and likes being the center of attention, check out these Mother's Day party ideas to get your creative juices flowing. After all, Mother's Day, which is always observed on the second Sunday of May (May 13, 2012) is right around the corner.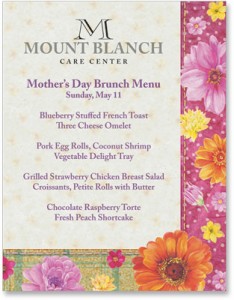 Mother's Day party tips:
For a surprise party:Create a list of all invitees and send a spring themed invitation that clearly states it is a surprise party. PaperDirect has an extensive line of party invitations for all occasions and tastes.
Party decorations are a very important part of any celebration. Decoration should always be according to the taste of the person for whom the party is being thrown. Decorate the venue, be it a home or anyother place with flowers of your mother's choice. If the party is at home, then change the look of home by putting up some beautiful family photos. PaperDirect also has a variety of vinyl banners on which you can personalize special messages to mom.
If you want to be really creative, you can choose a specific theme for your Mother's Day party such as the 50's or whatever decade will bring back fond memories to your mother or grandmother. You can do a Hawaiian theme party or an all white party. You can host a pool party (as long as a lifeguard is provided), or any number of other themes. Just make sure your mom would enjoy and approve of the theme you choose.
Food is one of the most important aspects of every party, and you want to be clear on the invitation what type of food will be served (appetizers only, full dinner, buffet, desserts, etc.) People don't want to show up hungry expecting to eat only to find cheese and crackers and other light snacks. If you serve food, you must estimate how much food will be necessary to adequately feed all of your guests. Drinks are important, too. You must provide non-alcoholic drinks for those who don't drink at all and you must be able to monitor alcohol consumption in case someone becomes too intoxicated to drive. It is your responsibility as host to ensure your guests get home safely. You can either have a designated driver to get your guests home or call them a cab.
Choose music that will be pleasurable to the majority of the guests. If your guest of honor and guests are senior citizens (or even if they're not) you need to keep the volume to a comfortable level at which people can easily hold  a conversation without having to raise their voices. Be sure to provide an area to dance and dance music in case people want to boogie.
Hire a photographer and/or videographer to capture the party so it can be remembered for years to come. If you don't have pictures and videos of this special event, you may regret it when Mom's no longer with you.
PaperDirect is your one-stop online shopping source for many party items including personalized napkins, place cards, and thank you notes.  Looking for more party ideas and tips? Check out these PaperDirect blogs:
Party Planning Tips for the Novice Host