Party Planning Tips for the Novice Host or Hostess
Seasonal & Special Events Ideas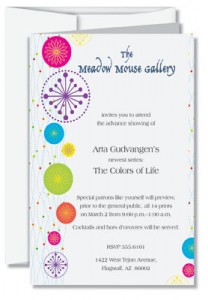 If you're no Martha Stewart and you're going to be hosting a party soon, you may be a nervous wreck. The first party planning tip for the novice hostess is to relax. If your guests sense your anxiety, then the mood for the party will be set. You must try to relax and have fun at your own party. Here are some party planning tips that will help even the most "green" party hostess throw a successful party:
Have enough food and drinks for your guests. It's better to over-prepare than under-prepare when it comes to food. If you serve alcohol, be sure to offer plenty of food as you don't want your guests drinking on an empty stomach.
Ask guests about any dietary restrictions they may have. You will need to find out about any food allergies and food preferences. If you can accommodate a vegan  guest or someone who eats a gluten-free diet, you will surely impress.
Don't be afraid to make the party a potluck. With each guest bringing their own dish, all of your guests will surely have something they enjoy eating.
Prepare for last-minute guests and even uninvited guests. It's not uncommon for a guest to say something like, "Oh, my sister, Susan, is in town from Denver. Hope it's OK she came along." Even if it's not really OK she came along, act like you couldn't be happier that Susan has joined the festivities.
Choose music that will appeal to the majority of your guests and keep the volume low. If your guests cannot enjoy conversation with each other, they may want to leave.
Offer a clean party space and clean restroom(s). Provide conveniently placed trash cans around the party area, so your guests are stuck holding dirty plates and empty cups. You can even walk around and offer to take those dirty plates off your guests' hands.
If you're hosting a barbecue, be sure to have a working grill, the necessary tools, and lots of charcoal or propane.
Prepare as many foods in advance as possible as this will reduce your stress greatly.
Pay attention to how long foods sit out. If there are dairy ingredients in foods, you must know how long those foods can safely be left out in the open air.
Decorate nicely and provide appropriate lighting. Candles are great, especially for outdoor settings.
Don't obsess too much about cleaning while the party is in full swing. If your guests sense you're working instead of having fun, then they may feel uncomfortable. You can clean a bit as you go, of course, but don't disappear for two hours to go wash all the dishes.
Make it clear whether children and/or pets are allowed. If some guests think they can bring along their children while others assume they cannot, some guests will be unhappy. The party invitation wording should be clear as to whether or not children and pets are welcome.
Don't allow anyone to drive who has had too much to drink. Try to monitor alcohol consumption during the party without seeming too judgmental. If it is clear a guest should not drive, you must provide transportation home (either you drive, have a friend drive, or call a cab).
Keep a party checklist because in the excitement of the planning and hosting, you will surely forget something.
By following these party planning tips, you will be well on your way to becoming a veteran host in no time at all! For invitations and other party accessories, shop PaperDirect!