7 Habits of Highly Effective Christmas Card Messages
Designing Your Business Communication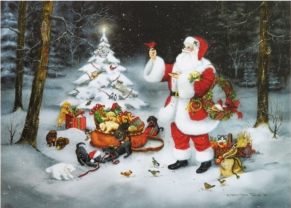 Creativity is appreciated when it comes to Christmas card messages, and a combination of sticking with tradition and tossing in a couple of unexpected surprises comprises the 7 habits of effective Christmas card messages.
Tips for Christmas Card Messages: 
Get Personal
Don't be shy about personalizing your card to include an authentic message straight from the heart. People are tired of pre-printed message cards, and opting to select premium Christmas cards and personalized a handwritten message shows integrity and authenticity.
Be Reverent
Regardless of religious beliefs, there's something about Christmas that most people have a sense of reverence for, so keep your message within that tone.
Show Optimism
Be optimistic and hopeful; offering well wishes to the recipient and their family.  Tough times can get to the strongest of the strong; a bright message may be just what they need.
Keep it Meaningful
You don't have to be a Poet Laureate to concoct your own special message.  Sharing that message with others helps others gain insight into your true self.
Keep Timeliness in Mind
Take into account the U.S. Postal Service, UPS, and FedEx are all incredible busy during the holidays. Make an effort to get those effective Christmas messages and gifts out at least two weeks prior to Christmas. Late cards and gifts make a negative impression, particularly if you are dealing with business associates.
Choose Compelling Graphics
A picture's worth a thousand words, making the photo you choose to grace your holiday cards of utmost importance.  Choose one that highlights the message you want to send. PaperDirect offers a wealth of address labels, envelope seals, Christmas party invitations, and an entire line of holiday stationery to suit your every whim.
Regardless of your style and the effective Christmas card message you want to get across, choosing to rely on PaperDirect for all of your holiday gifts, cards, and custom printing is a surefire way to save money, alleviate your to-do list, and you can do it all by ordering from PaperDirect – the one-stop shop for your Christmas needs.